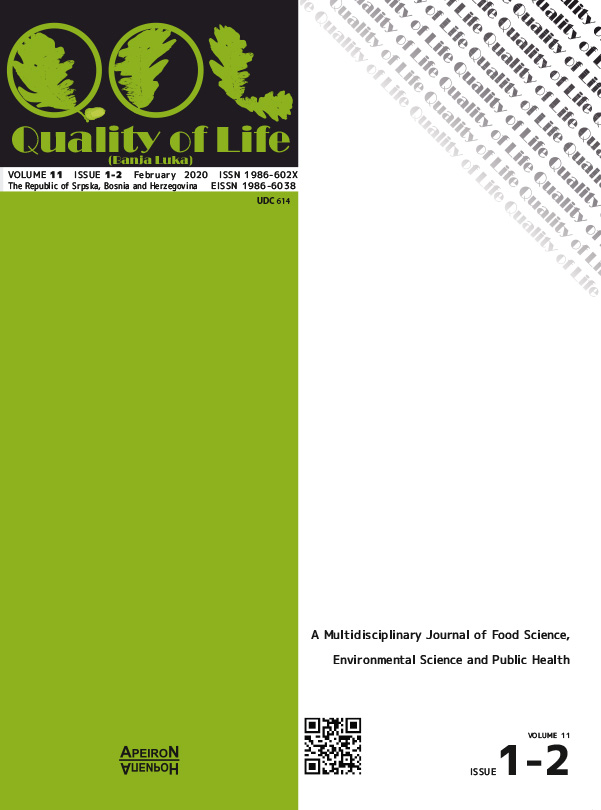 A Multidisciplinary Journal of  Food Science, Environmental Science and Public Health
ISSN 1986-602X          EISSN 1986-6038
UDC 614 
Quality of Life (Banja Luka)
A Multidisciplinary Journal of  Food Science, Environmental Science and Public Health

Izdavač/Published by Panevropski univerzitet ''Apeiron'' Banja Luka/ Pan-European University ''Apeiron'' Banja Luka
Urednik izdavača/Editor of University Publications Aleksandra Vidović, Bosnia and Herzegovina
Editor-in-Chief Ljiljana Stojanović-Bjelić (Bosnia and Herzegovina)
Assistant Editors Dragana Nešković Markić (Bosnia and Herzegovina)

International Editorial Board
Cantalejo Maria-Jesus (Spain)
Mirjana Vojinović Miloradov (Serbia)
Giuseppe Enne (ltaly)
Olga Martin-Belloso (Spain)
Minkov Ivan (Bulgaria)
Murković Michael (Austria)
Nedić Drago (Bosnia and Herzegovina) Radovanović Radomir (Serbia)
Rajković Andrea (Belgium)
Srebenkoska Vineta (Macedonia)
Predrag Ilić (Bosnia and Herzegovina)
Vasiljević Todor (Australia)
Zavargo Zoltan (Serbia)
Slađana Šiljak (Bosnia and Herzegovina)
Sanja Brekalo (Bosnia and Herzegovina)
Editorial council
Aleksić Siniša (Bosnia and Herzegovina) Andretta Dario (ltaly)
Ateljević Jovo (United Kingdom)
Avramović Ž. Zoran (Serbia)
Balaban Milorad (Bosnia and Herzegovina)
Cakić Milorad (Serbia)
Đurić Zdenka (Serbia)
Slaven Grbić (Bosnia and Herzegovina)
Gordan Bajic (Bosnia and Herzegovina)
Branislav Mihajlovic (Bosnia and Herzegovina)
Golubović Srboljub (Bosnia and Herzegovina)
Jašić Midhat (Bosnia and Herzegovina)
Hristina Stevanović Čarapina (Serbia)
Radojka Bijelić (Bosnia and Herzegovina)
Uremović Darko (Bosnia and Herzegovina)
Vidović Aleksandra (Bosnia and Herzegovina)
Editorial Office
Secretary Aleksandra Vidović
Language Editor (English, Serbian)
Technical Editor/Layout Sretko Bojić
Web design Alen Tatarević
Printed by  Markos design & print studio, Banja Luka
Printed in 300 copies 
Indexed in:
- ebscohost.com
- citefactor.org/contact
- scholar.google.com
- doisrpska.nub.rs
- crossref.org
- road.issn.org
- cosmosimpactfactor.com
- erihplus.nsd.no
- esjindex.org
Quality of Life is registered with the Ministry of Science and Technology of the Republic of Srpska by serial
registration code 07.030-053-160-4/10, date 03.03.2010.
Quality of Life (ISSN 1986-602X) is an international journal published four times a year.
Svi radovi koji prođu prvu uredničku kontrolu podliježu tzv. dvostrukoj slijepoj recenziji (eng. double-blind review) kojom se ne otkriva identitet ni autora ni recenzenta.
All the papers that pass the first editorial control are subject to the so-called double-blind review process which does not reveal the identity of the authors or reviewers.
Full-text available free of charge at http://www.qol-au.com