CORRECTIVE MEASURES IN THE FEDERATION OF BOSNIA AND HERZEGOVINA
Abstract
By the adoption of the Protection and Treatment of Children and
Juveniles in Criminal Procedure Act 2014(which started applying in early 2015)
the criminal and legal position of juvenile perpetrators of criminal offences in
the Federation of Bosnia and Herzegovina was regulated in a new way. The
Republika Srpska and Brčko District of Bosnia and Herzegovina have been applying
laws of similar content from before. Education measures are provided
as the most important measure of social reaction towards these persons. The
law recognizes several types of these measures with different content, purpose,
duration and manner of implementation which are subject matter of this paper.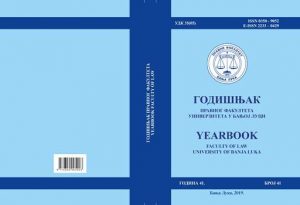 Downloads