PROHIBITING MEASURES AS AN ALTERNATIVE TO PRE-TRIAL CUSTODY IF DANGER OF ITERATION EXISTS, YES OR NO?
Abstract
The measure of pre-trial custody as the most serve measure to secure
the presence of the suspect or accused in criminal proceedings and its successful
conduct has always attracted due attention of both legal doctrines and
judicial practices at all levels due to the consequences concerning the imposed
restriction on the right to freedom of movement. Hence, the interest of science
and the judiciary was primarily aimed at defining very strict criteria in which
the measure of pre-trial custody could be used and the rules that should be used
by courts when considering the use of possible alternative measures to ensure
the presence of the suspect or accused that may be the most appropriate, in the
particular situation, without the need to apply a more severe measure if the
purpose of the imposed measure can be achieved with a milder measure. Regarding
the code of criminal proceedings in Bosnia and Herzegovina, all four
laws on criminal procedure regulate, in a largely identical manner, when and
under what circumstances the custody can be ordered, including the situation
of custody order due to the danger of iteration (danger of repetition of criminal
offense or completion of an attempted criminal offense or committing a threatened
criminal offense).2 However, the reason of confusion and perplexities
among the judicial practitioners at various levels of judicial decision-making
is whether the pre-trial custody imposed due to the danger of iteration can be
replaced by prohibiting measures, as milder measures, given that the purpose,
in the specific case, is not ensuring the presence of the suspect or the accused
in criminal proceedings, rather than the elimination of the danger of committing
a (repeated) criminal offense.
It is precisely this problem that is the central point of author's interest of
this scientific paper and the author will analyze the theoretical reasons that are
for and the reasons against the possibilities of replacing the custody measure
when the danger of iteration exists with the prohibiting measures, as well as
the current judicial practice in Bosnia and Herzegovina regarding this issue.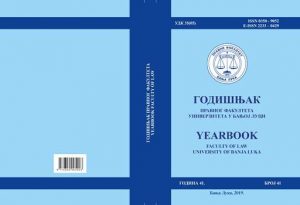 Downloads