LAND USE / LAND COVER MAPPING FROM SENTINEL 2 DATA USING MACHINE LEARNING ALGORITHMS
Abstract
Land cover/land use (LULC) have an important impact on land degradation,
erosion and water availability therefore mapping of patterns and spatial distribution of
LULC is essential for land management. Accurate mapping of complex land cover and
land use classes using remotely sensed data requires robust classification methods.
Various classification algorithms and satellite images have been used in recent years. For
this study, moderate resolution Sentinel-2 image was used. In order to evaluate the
potential of the input image and derive land cover map in complex urban area of Banja
Luka, Republic of Srpska with highest possible precision, two machine learning
algorithms where applied: Supported Vector Machines (SVM) and Random Forst (RF).
An overall classification accuracy of 90,82% with kappa value of 0,87 and 88,29 with
kappa value of 0,84 was achieved using SVM and RF. The study showed that of
machine learning algorithms on Sentinel-2 imagery can results in accurate land cover
maps.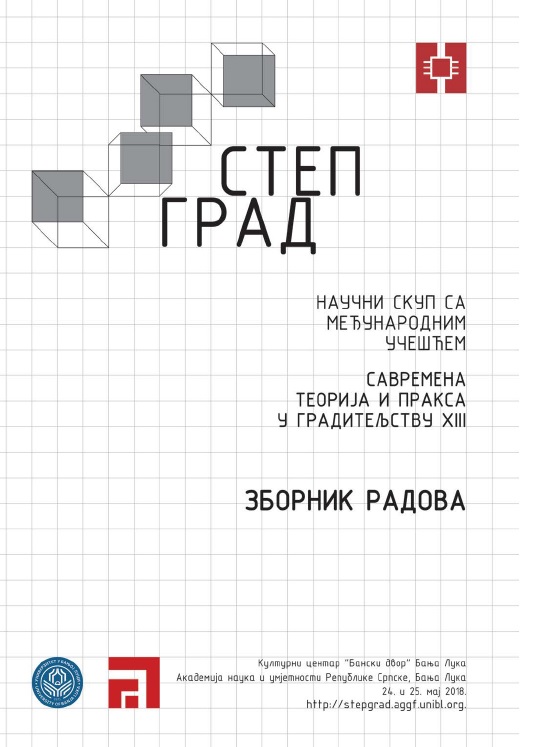 Downloads
How to Cite
[1]
G. Jakovljević, "LAND USE / LAND COVER MAPPING FROM SENTINEL 2 DATA USING MACHINE LEARNING ALGORITHMS", STEPGRAD, vol. 1, no. 13, Oct. 2021.