FIRE RESISTANCE OF REINFORCED CONCRETE SLABS ACCORDING TO EC2 AND BRANZ TR8
Abstract
Concrete elements are practically an integral part of every construction project and
building. They have significantly higher fire resistance in comparison to elements made
of other construction materials. However, RC slabs are the most sensitive concrete
elements to the effects of fire when compared to all the other reinforced concrete elements.
Therefore, this research focuses on determining the fire resistance of RC slabs using
Method for determining fire resistance of slabs BAS EN 1992-1-2:2017, Eurocode 2,
Design of concrete structures, Part 1-2: Structural fire design (Tabulated Data) and
BRANZ Technical recommendation No. 8 – Method for Fire Engineering Design of
Structural Concrete Beams and Floor Systems. A fire action to RC slabs is modeled using
standard fire ISO 834-1 (BAS EN 1991-1-2:2015). This research considers determining
fire resistance of simply supported RC slabs of different spans and different depths with
variations of concrete cover.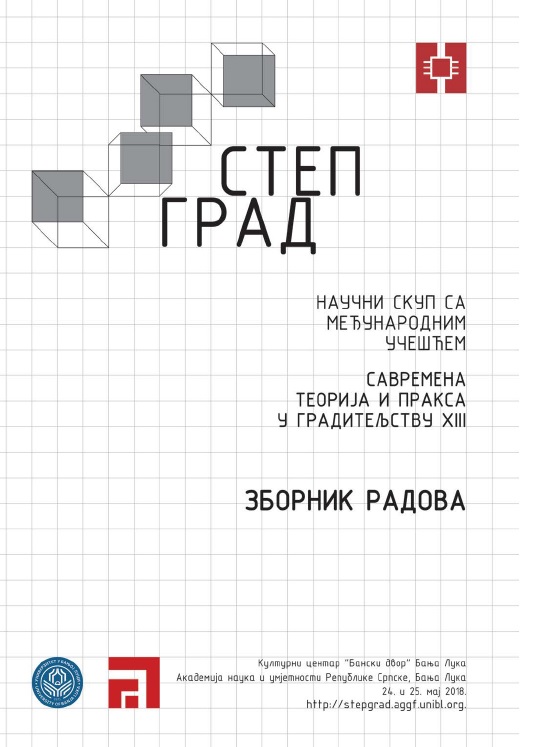 Downloads
How to Cite
[1]
S. Džadić, "FIRE RESISTANCE OF REINFORCED CONCRETE SLABS ACCORDING TO EC2 AND BRANZ TR8", STEPGRAD, vol. 1, no. 13, Oct. 2021.