IMPROVEMENT OF THE URBAN GREEN MATRIX THROUGH URBAN REGULATION AND ARRANGEMENT OF UNDEVELOPED SPACES - CASE STUDY OF LAUSH SETTLEMENT IN BANJALUKA
Abstract
This paper aims to examine the state of undeveloped spaces in urban areas. The first part of the paper focuses on the state of the urban landscape's undeveloped spaces. To recognize their character and quality, the Narrative Spatial Analytics (NSA) method was proposed. It integrates three design research techniques which enable landscape designers to expand the scope of their research practice. The second part of the paper discusses a case study of neglected green space in the Laush settlement in Banjaluka, which could be incorporated into the Banjaluka green matrix. The phases of the solution concept for the arrangement of a new park and the elaboration details were analyzed, which completed the process of improving the Banjaluka green matrix.
References
Lj. Došenović, T. Trkulja, Rekreativna funkcija šumskih kompleksa Banjaluke kao element prostornog i urbanističkog planiranja. Banja Luka: Univerzitet u Banjoj Luci, Šumarski fakultet, 2019.
M. Townsend, R. Weerasuriya, Beyond Blue to Green: The benefits of contact with nature for mental health and well-being. Melbourne: Beyond Blue Limited, 2010.
P. Y. Tan, "Perspectives on greening of cities through an ecological lens," in Greening Cities: forms and functions, 2017, pp. 15-39.
G. T. Svendsen, "From a Brown to a Green Economy: How Should Green Industries Be Promoted?", Environmental Practice, 15(1), pp. 72–78, 2013.
H. Frumkin, M. E. Eysenbach, How cities use parks to improve public health. American Planning Association: City Parks Forum Briefing Papers, 2003.
T. Takano, K. Nakamura, M. Watanabe, "Urban residential environments and senior citizens' longevity in megacity areas: the importance of walkable green spaces," Journal of Epidemiol Community Health, 56(12), pp. 913-918, 2002.
J. M. Jenkins, J. J. Pigram, Encyclopedia of Leisure and Outdoor Recreation. London: Routledge, 2003.
T. Trkulja, Lj. Došenović, Sistem urbanog zelenila u procesu razvoja održivog i otpornog grada. Banja Luka: Univerzitet u Banjoj Luci: Arhitektonsko-građevinsko-geodetski fakultet, 2020.
R. Radović, Forma grada – osnova, teorija i praksa. Beograd: Orion art, 2003.
P. Stamenović, Đ. Bulajić (2021). "Narrative spatial analytics (NSA) in urban landscape research and design," Urban design International [On-line]. Available: https://link.springer.com/epdf/10.1057/s41289-020-00148-0?sharing_token=v9GZvtc0OUKShmrEUSx2V1xOt48VBPO10Uv7D6sAgHtWOjvyOziGE-7hlj0I-wUzSTX98qP-JjBEYQdFMdBuLZAlxWd7TKNktVHME_ev4cRG7ClSc9qXn2TaT6YZ8GSWdBl7SINkQBcmmBMzNG4PTOYqHwsskIvypujOTQSdh98%3D [Feb. 1, 2022].
L. Ameel, The Narrative Turn in Urban Planning: Plotting the Helskini Waterfront. London and New York: Routledge, 2020.
J. A. Throgmorton, "Planning as Persuasive Storytelling in the Context of the Network Society", in ACS P-AESOP Third Joint Congress, 2003. https ://doi.org/10.17077 /h5mm-k1r6.
S. Nijhuis, "Applications of GIS in Landscape Design Research," Research in Urbanism Series, 4 (1), pp. 43–56, 2016.
L. Galofaro, "On the Idea of Montage as Form of Architecture Production," Proceedings 2017, 870, pp. 1–9, 2017.
Prostorni plan grada Banja Luka 2014-2030. godine, Banja Luka: "Projekt" a.d. Banja Luka i Institut za građevinarstvo "IG" d.o.o. Banja Luka, 2014.
T. Trkulja, "Urbani pejzaž Banjaluke – tradicionalni i savremeni odnos prema prirodnoj i građenoj sredini," in Zbornik radova Međunarodnog naučno-stručnog skupa Arhitektura i urbanizam, građevinarstvo, geodezija - juče, danas, sutra, 2011, pp. 403-410.
Banjaluka – urbanistički plan, sinteza, Banjaluka, Urbanistički zavod Banjaluka, 1975.
A. Kirjakov, Generalni urbanistički plan Banjaluke. Sarajevo: Urbanistički zavod glavne uprave za komunalne poslove Narodne Republike Bosne i Hercegovine, 1952.
Natural England. (2010). 'Nature Nearby' - Accessible Natural Greenspace Guidance. [On-line]. Available: http://www.ukmaburbanforum.co.uk/docunents/other/nature_nearby.pdf [March 21, 2022].
Urbanistički plan grada Banjaluke 2020-2040. - nacrt, Banja Luka, Urbis centar, 2022.
Prostorni plan Republike Srpske do 2015. godine, Banja Luka, Urbanistički zavod Republike Srpske a.d. Banja Luka, 2008.
Mondo, (2017). "Ovo možda niste znali o Laušu … (foto, video)," [On-line]. Available: https://mondo.ba/Info/Drustvo/a751139/Laus-zanimljive-cinjenice.html [Dec. 1, 2003].
Regulacioni plan "Lauš 3", Banjaluka, Urbanistički zavod Republike Srpske a.d. Banjaluka, 2006.
M. Malinović, A monograph: The architecture in Banja Luka during the Austro-Hungarian rule in Bosnia and Herzegovina between 1878 and 1918. Banja Luka: Arhitektonsko-građevinski fakultet, 2012.
S. Williams, Recreation in the Urban Environment. London: Routledge, 1995.
P. Dadvand, M. Nieuwenhuijsen, M. Esnaola, J. Forns, X. Basagaña, Green spaces and cognitive development in primary schoolchildren. Worcester, MA: Clark University, 2015.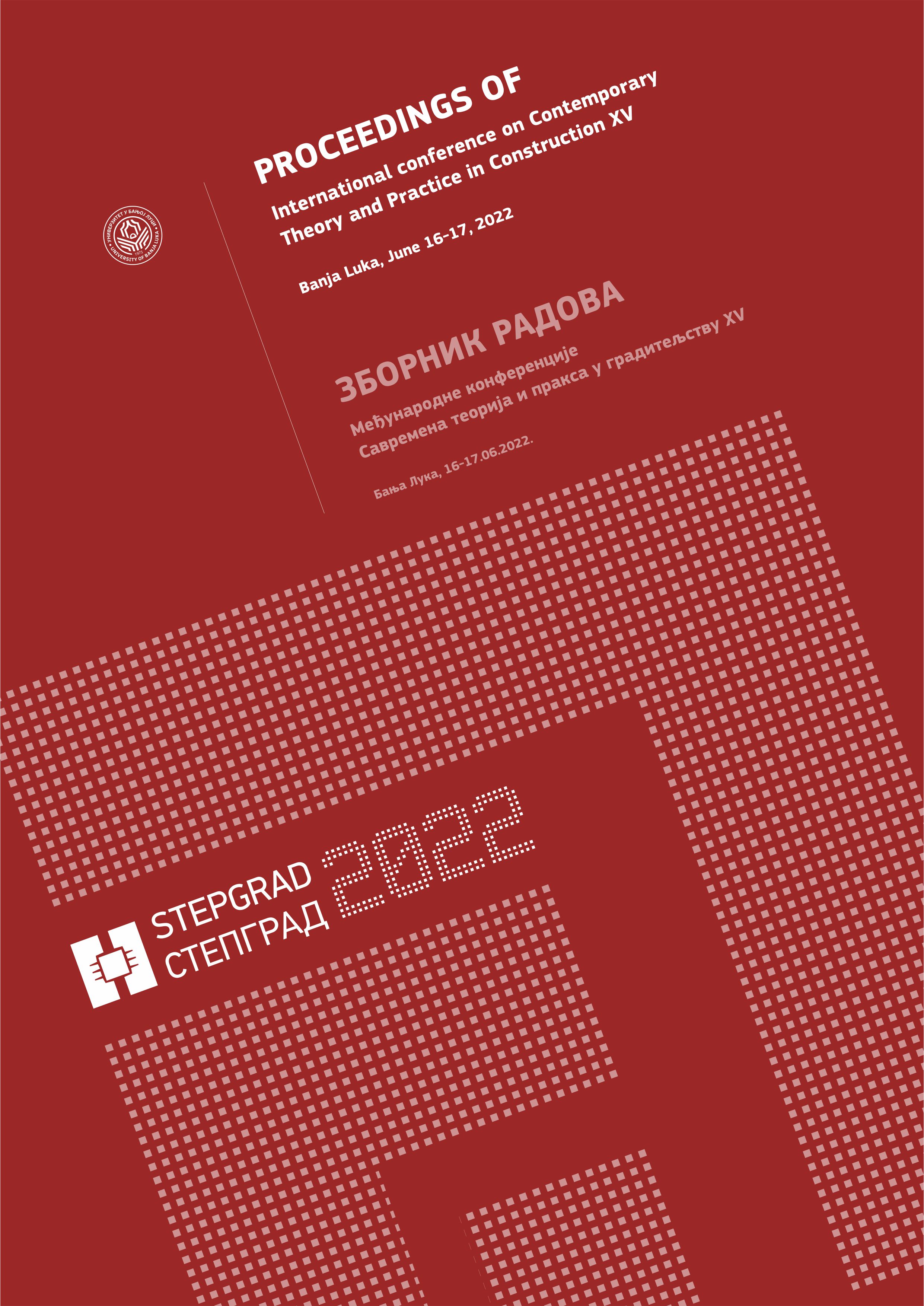 Downloads
How to Cite
[1]
T. Trkulja, L. Došenović, and N. Rodić, "IMPROVEMENT OF THE URBAN GREEN MATRIX THROUGH URBAN REGULATION AND ARRANGEMENT OF UNDEVELOPED SPACES - CASE STUDY OF LAUSH SETTLEMENT IN BANJALUKA", STEPGRAD, vol. 1, no. 15, pp. 205-218, Jun. 2022.