NEIDHARDT'S VERNACULAR-MODERNIST GLOSSARY OF BOSNIA AND HERZEGOVINA'S ARCHITECTURE AND URBANISM
Abstract
The construction principles underlying Bosnia and Herzegovina's traditional building and the
characteristics of its modernist architecture provide a basis for a set of criteria to evaluate its
modernist heritage. The architect and town planner Juraj Neidhardt created a modernist-vernacular
glossary of Bosnian-Herzegovinian architecture and town planning, with new terms based on
analogies with concepts and spatial elements used in the past. Neidhardt's modernism has regional
characteristics and is the earliest representation of critical regionalism in Bosnia and Herzegovina
in the 1970s. There is a real need to reconsider and conceptualize alternative approaches to the
process of revaluation of the entire material heritage of the Bosnian-Herzegovinian modernist era.
References
D. Simonovic and T.Vujicic, "Valuation and reactivation of the 20th-century industrial
heritage and its relevance for strengthening the cultural identity of the Republic of
Srpska". In Browninfo. Toward a methodological framework for brownfield database
development, A. Đukić, D. Simonović, and T. Vujičić, Eds. Banjaluka: University of
Banjaluka, Faculty of Architecture, Civil Engineering and Geodesy, 2014, pp. 23-41.
D. Grabrijan and J. Neidhardt, Arhitektura Bosne i put u savremeno/ Architecture of
Bosnia and the Way of Modernity. Ljubljana: Državna založba Slovenije, NR Bosna i
Hercegovina, NR Slovenija, 1957.
J. K. Kapetanović, Juraj Najdhart. Život i djelo. Sarajevo: Veselin Masleša, 1990.
E. Ben-Joseph, The Code of the City. Standards and the Hidden Language of Place
Making. Cambridge, Ma, London: The MIT Press, 2005.
LJ. Blagojević. "Strategije modernizma u planiranju i projektovanju urbanističke strukture
Novog Beograda: period konceptualne faze od 1922 do 1962. godine" [Strategies of
Modernism in the planning and design of urban structure of New Belgrade: the period of
the conceptual phase from 1922 to 1962]. PhD dissertation, AFUB, Belgrade, 2004.
D. Simonović, "Rehabilitation of Urban Identity of Cities in the Banja Luka Region
through Urban Form Regulation". SPATIUM International Review No. 30, 2013, pp. 28-
D. Simonović, "Istraživanje mogućnosti obnove i unapređenja identiteta pejzažnog grada
Banjaluke putem urbanističke regulacije" [Research into the possibility of rehabilitation
and upgrade of the urban identity of Banja Luka as a landscape city through urban
regulation]. (PhD dissertation). AGGF UNIBL, Banjaluka, 2014.
J. Savić. "Moderno i vernakularno u procesu urbane transformacije Banjaluke" [Modern
and vernacular in the process of the urban transformation of Banja Luka]. PhD
dissertation, AFUB, Belgrade, 2013.
P.V. Milošević, Аrhitektura u Kraljevini Jugoslaviji (Sarajevo 1918-41). Srbinje:
Prosvjeta, 1997.
K. Frempton, (1985). Modern Architecture a Critical History. London: Thames &
Hudson.
K. Frempton, "Towards a Critical Regionalism: Six Points for an Architecture of
Resistance". In The Anti-Aestehetic Esseys on Postmodern Culture. Hal Foster, Ed.,
Washington: Bay Press, Port Townsend, 1983, pp. 16-30.
Marina Radulj, Maja Milić Aleksić, Ognjen Šukalo. "Critical Resistance of a Hut – in six
points (Cultivation Of Critical Practice Through The Memorial House Design By The
Architect Ranko Radović) AGG+ Journal for Architecture, Civil Engineering, Geodesy
and related scientific fields. University of Banja Luka Faculty of architecture, Civil
Engineering and Geodesy / AГГ+ часопис за архитектуру, грађевинарство, геодезију
и сродне научне области, 034-047.
Krunoslav Ivanišin. "Regionalizam ili globalizacija: budućnost mediteranskog pejzaža",
ZAREZ IV/78, 32-33.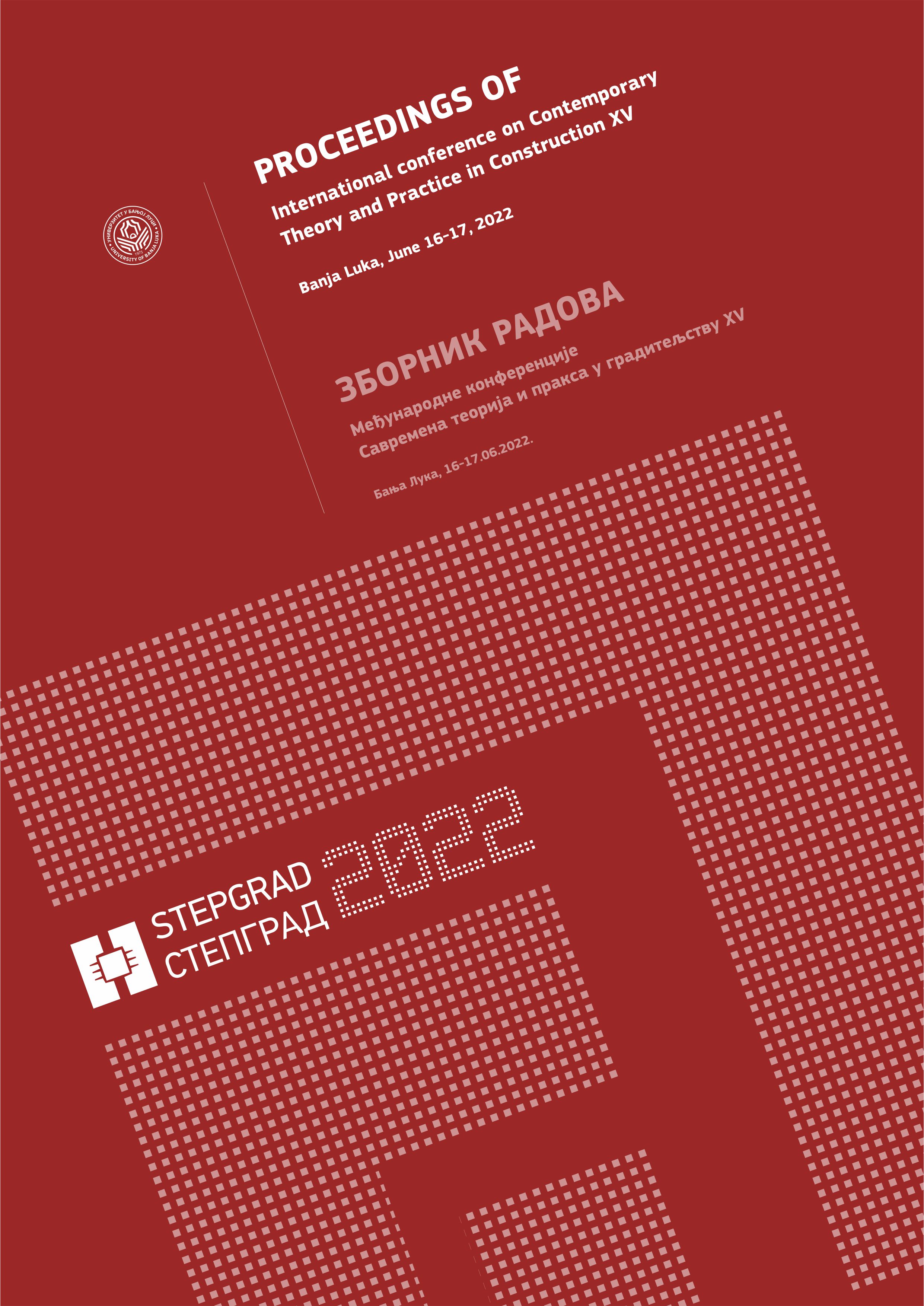 Downloads
How to Cite
[1]
D. Simonović, "NEIDHARDT'S VERNACULAR-MODERNIST GLOSSARY OF BOSNIA AND HERZEGOVINA'S ARCHITECTURE AND URBANISM", STEPGRAD, vol. 1, no. 15, pp. 256-266, Jun. 2022.