3D LASER SCANNING FOR RECONSTRUCTION AND RENOVATION OF BUILDINGS
Abstract
Buildings and their infrastructure are one of the foundations of every civilized society for a normal and comfortable life. Since the lifespan of buildings also passes over time, they need to be maintained and after a certain time, renovation or reconstructed. Reconstruction and renovation of a building includes the performance of construction and other works for the purpose of its renovation. An important step in the reconstruction and renovation is the collection of geospatial data. 3D laser scanning is an advanced geomatic technology for collecting geospatial data for the purpose of analyzing geospatial information and creating the necessary technical basis for further design work.
References
M. Radujković i dr., "Organizacija građenja". Sveučilište u Zagrebu, Građevinski fakultet, Zagreb, 2015.
R. Sacks, Ch. Eastman, G. Lee, P. Teicholz, "BIM Handbook A Guide to Building Information Modeling for Owners, Designers, Engineers, Contractors, and Facility Managers". Third Edition, Hoboken, New Jersey. Wiley, 2018.
Njvaro Đ., "Znanje o upravljanju projektima: (vodič kroz PMBOK)", Mate, Zagreb, 2011.
C.A.L. León-Robles, J.F. Reinos-Gordo, J.J. G González-Quiñones, "Heritage Building Information Modeling (H-BIM), Applied to A Stone Bridge", ISPRS Int. J. Geo-Inf, 8 (3), 121, 2019.
M. Jurčević, M. Pavlović, H. Šolman H., "Opće smjernice za BIM pristup u graditeljstvu", Hrvatska komora inženjera građevinarstva, Zagreb, 2017.
D. Lovrenčić, "Primjena 3D skeniranja u svrhu pripreme tehničkih podloga za rekonstrukciju i sanaciju građevine". Diplomski rad, Odjel za graditeljstvo, Sveučilište Sjever, Varaždin, 2021.
M. Murphy, A. Corn, J. Cahill, K. Eliashvli, A. Chenaux, C. Pybus, R. Shaw, G. Devlin, A. Deevy, L. Truong-Hong, "Developing Historic Building Information Modelling Guidelines and Procedures for Architectural Heritage in Ireland", The International Archives of the Photogrammetry, Remote Sensing and Spatial Information Sciences, Volume XLII-2/W5, 26th International CIPA Symposium, 28 August–01 September, Ottawa, Canada, 2017.
Narodne novine, "Zakon o gradnji". Službeni list Republike Hrvatske, Pub. L. No. NN 153/13, Zagreb, 2013.
Narodne novine, "Tehnički propis za građevinske konstrukcije", Službeni list Republike Hrvatske, NN 125/19 , Zagreb, 2019.
Narodne novine, "Pravilnik o obaveznom sadržaju i opremanju projekata građevina", Službeni list Republike Hrvatske, NN 118/19, Zagreb, 2019.
Leica Geosystems "Data Sheet Leica BLK360" Internet: https://leica-geosystems.com/products/laser-scanners/scanners/blk360 [Feb. 07, 2022]
Leica Geosystems "Leica Cyclone 3D Point Cloud Processing Software".Internet: https://leica-geosystems.com/products/laser-scanners/software/leica-cyclone/leica-cyclone-register-360 [Feb. 08, 2022]
H.J. McNeil, K.O. Hartley, "Project planning and performance" , Project Management Journal, 17(1), pp. 36-44, 1986.
U. Uotila, A. Saari, J.M. Junnonen, "Investigating the barriers to laser scanning implementation in building refurbishment", Journal of Information Technology (ITcon), Vol. 26, pp. 249-262, 2021.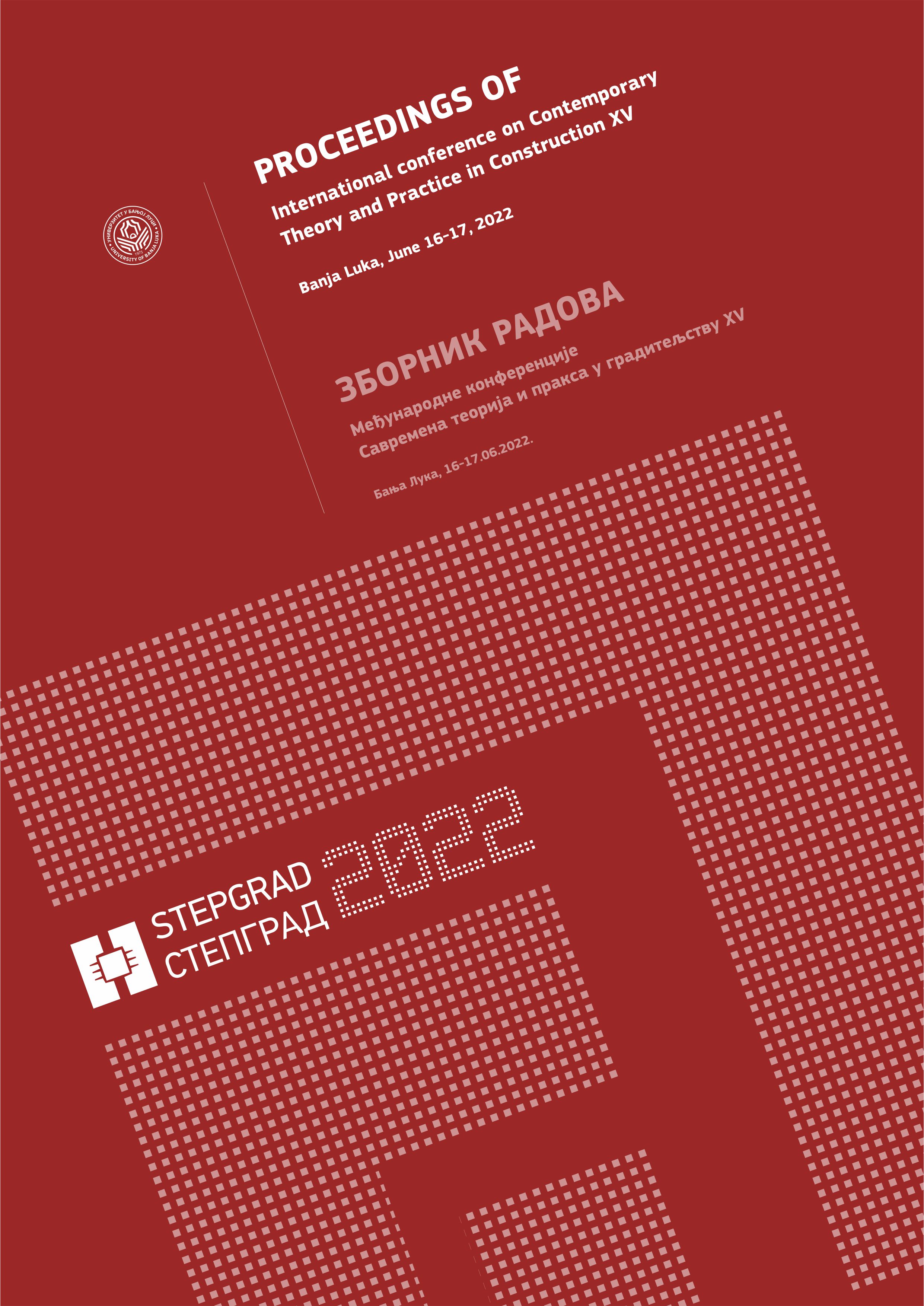 Downloads
How to Cite
[1]
D. Markovinović, D. Lovrenčić, S. Šamanović, and V. Cetl, "3D LASER SCANNING FOR RECONSTRUCTION AND RENOVATION OF BUILDINGS", STEPGRAD, vol. 1, no. 15, pp. 511-520, Oct. 2022.