Effects of Anxiety and Depressive Manifestations of Personality on Functional Recovery of Patients with Cervical Pain Syndrome
Abstract
Introduction: Cervical syndrome is a set of symptoms that are manifested by pain in the neck segment and shoulder blade region, with the feeling of tightness and tension, and limited movement of the neck segment of the spine. Because of the long-term duration of symptoms, we often find psychopathological manifestations in the form of anxiety and depression in these patients.
Objective: The goal was to detect the presence of anxiety and depressive manifestations of personality in patients with cervical syndrome at the beginning of rehabilitation treatment, to determine to what extent the presence of anxiety and depressive symptomatology affects the functional recovery of patients after a physical rehabilitation treatment.
Patients and Methods: The study was conducted as a prospective study involving 100 patients. Criteria for inclusion were the diagnosis of cervical syndrome and the age of patients between 20 and 60 years of age. Exclusion criteria were diagnosis of cervical radiculopathy, vertebrobasilar syndrome, diagnosis of anxiety and depressionconfirmed by psychiatrist, as well as use of psychotropic substances. On admission, each patient filled in Beck's questionaire for anxiety and depression (BAI and BDI)and accordingly patients were divided into 3 groups.
Results: Out of total of 100 patients, 74% were female and 26% were male. In 77% of patients psychopathological manifestations of personality were found. A statistically significant association of gender and group placement was found (p=0,003). The women had a far greater percentage of anxiety and anxiety-depressive manifestations of the personality than men. In terms of BAI and BDI, there was a statistically significant difference between genders. All of the parameters ( VAS, Schober, CSS) monitored during rehabilitation treatment were improved at the end of treatment (p=0,0001). There was a positive correlation of BAI and BDI with CSS on admission and at discharge (p=0,05) in a group of anxiety-depressed patients.
Conclusion: The presence of anxiety and depressive manifestations of personality did not have a negative impact on the functional recovery of patients. Physical therapy has led to reduction of pain, increased mobility and better functional status of cervical spine for patients with cervical spine syndrome.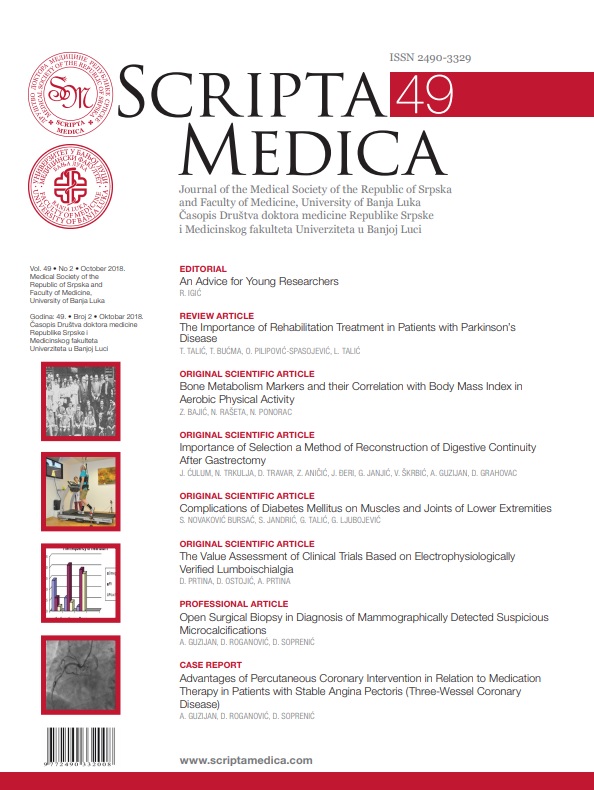 Downloads