INFLUENCE OF TILLAGE TECHNIQUES FOR OLD-AGE GALEGA ORIENTALIS GRASS STAND ON AGRO-PHYSICAL AND MICROBIOLOGICAL INDICATORS OF SOIL IN MIDDLE PREDURALIE (RUSSIA)
##article.abstract##
The paper presents the results of investigations conducted in 2013 on the
experimental and training field of the Perm State Agricultural Academy with the
aim to reveal the influence of rejuvenation agro-techniques for perennial grass
stands on thickening processes in sod-podzolic soils of Middle Preduralie (Russia).
The authors consider dependence of grass stand thinning on different tillage
techniques, give data on calculating illumination, light brightness and air
temperature in ground surface layer. As investigation object was used partly
thinned 13 year old galega orientalis grass stand which is considered to be
inapplicable for large scale production. Conducted investigations revealed the
dynamics of root system recovery of old-age galega orientalis grass stands for
subsequent involvement of degraded grass stands into production with sustainable
green mass yield and to produce seeds. Under influence of different rejuvenation
techniques the illumination of grass stand changed and as a result growth
conditions altered. That leads to alteration in agro-physical and agro-biological
factors that favor yield formation. Implemented techniques improved illumination
and permeability of sun radiation to the soil surface that increases soil temperature and
favorably influences the symbiosis of legumes with resistant microorganisms and root
system growth. Root system entirely covers arable layer structuring it, increases the
area for nutrition as well as decreases heavy clay soils overcrust creating optimal
conditions for growth of nitrogen fixing microorganisms and development of perennial
legume grasses. This technology is energy saving and leads to cost reduction and
increase of profitability.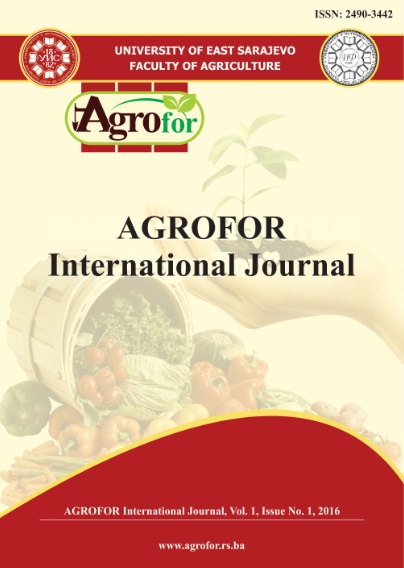 Downloads
##submissions.published##
##section.section##
Чланци