INFLUENCE OF PROPAGULE SIZE AND ORGANIC MANURE ON THE GROWTH AND YIELD OF GINGER (Zingiber officinalis)
##article.abstract##
Ginger is grown majorly in the derived savannah of Nigeria for its potential health
benefits, this health related usefulness of ginger have also stimulated farmers
concern for the growing of the plant having realized its efficacy in life changing
ailments as a result of this the availability of the propagule for planting became so
scarce and not within the reach of farmers. Its cultivation has recently been
introduced to the South western Nigeria. A field trial was carried out at the
National Horticultural Research Institute, Ibadan (Nigeria) to study the influence of
propagule size and organic manure on the vegetative growth and rhizome yield of
ginger in the rainy season of 2008. Propagule size had significant effect on plant
height and number of tillers. 10g propagule size of 28.2 was highest while the
organic manure control was the least for all the vegetative parameters considered.
As the rate of organic manure increases, there was an increase in all the vegetative
parameters reaching its peak at 15t/ha and decreased again at 20t/ha. The
interaction between the propagule size and organic manure was significant for the
number of rhizomes, number of tillers and the yield. 10g propagule size and 15t/ha
organic manure produced optimum growth and yield of ginger.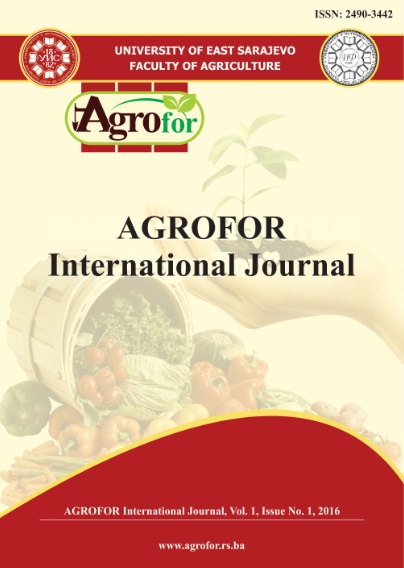 Downloads
##submissions.published##
##section.section##
Чланци