THE ARCHITECTURE OF SCHOOLS IN BANJA LUKA BUILT IN 1878-1918
Abstract
This paper deals with the architecture of schools built in Banja Luka, during the 40-year long Austro-Hungarian rule in today's Bosnia and Herzegovina. The buildings for education, spanning from the basic, very small, elementary schools, to vast buildings, like higher gymnasium, received very interesting set of architectural styles featuring traditional local architecture, Moorish Revival, Renaissance and Classic Revival, as well as Secession.
The paper shows the initial status of all buildings, their location within the original urban fabric, architectural and historical background and specific subject matters, originally contributing to research, analysis and evaluation of this building typology located in Banja Luka, built in Austro-Hungarian era. Their stylistic adherence and architectural properties are analysed as well. Besides that, the paper shows the development and later life of all schools, showing the influences of later regimes, politics and some natural factors to these important pieces of architecture, followed by the conclusion and analysis of the role of these buildings in local development and their contribution to establishment of the cityscape identity.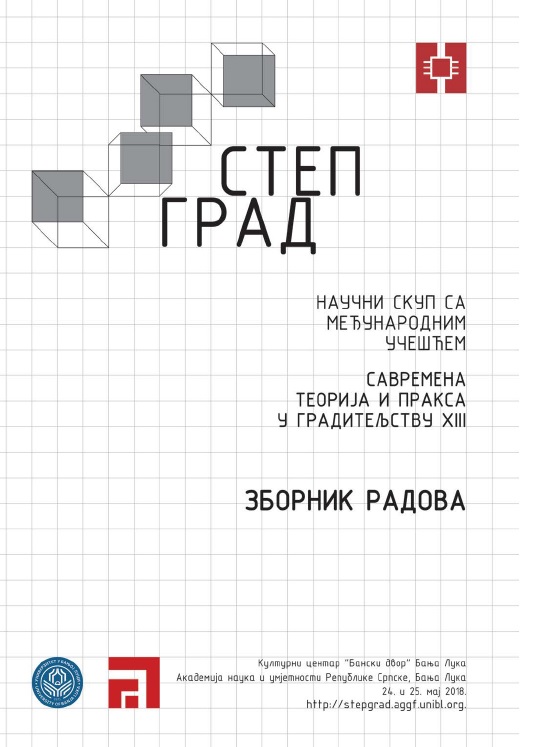 Downloads
How to Cite
[1]
M. Malinović, "THE ARCHITECTURE OF SCHOOLS IN BANJA LUKA BUILT IN 1878-1918", STEPGRAD, vol. 1, no. 13, Oct. 2021.