GENDER DIFFERENCES IN THE ACHIVEMENTS OF CIVIL ENGINEERING STUDENTS
Abstract
The paper analyzes gender differences in the length of study and average grade between the number of enrolled and graduated students at the Faculty of Architecture, Civil Engineering and Geodesy in Banjaluka, during the period from 1996 to 2015. It was concluded that women, in civil engineering studies, are just as successful as men. However, it is noticeable that women in Bosnia and Herzegovina, enroll much less in engineering studies. Engineering studies need to be more popularized among women. The results of the analysis are presented using the SPSS statistical analysis software package.
References
Univerzitet u Banjoj Luci, Arhitektonsko-građevinsko-geodetski fakultet, https://aggf.unibl.org/sr/vesti/2020/03/informator-2020 [22.02.2022.]
Građevinski fakultet Univerziteta u Sarajevu, http://www.gf.unsa.ba/?lokacija=nastava , [17.09.2020.]
Sveučilište u Zagrebu, Građevinski fakultet , https://www.grad.unizg.hr/images/50011677/odluka%20o%20kriterijima%20za%20upis%20u%20prvu%20godinu%20preddiplomskog%20sveucilisnog%20studija%20gradjevinarstva%20u%20ak%20god%202021-2022.pdf, [27.11.2020]
Građevinski fakultet Univerziteta u Beogradu, https://www.grf.bg.ac.rs/home [27.11.2020.]
Univerza v Ljubljani, https://www.uni-lj.si/study/bachelor/ [27.11.2020].
V. Simeunović, LJ. Preradović, "Using data mining to predict success in studying'', Croatian Journal of Education, 16(2), pp. 491-523, 2014.
LJ. Preradović., Đ. Stojisavljević, A. Gaćina , "Primjena informacionih tehnologija u analizi i predviđanju uspjeha studenata", AGG+ časopis za arhitekturu, građevinarstvo, geodeziju i srodne naučne oblasti, br.6, pp. 28-38, 2018. doi: 10.7251/AGGPLUS1806028V
LJ. Preradović, S. Kosić-Jeremić, "Povezanost uspjeha studenata geodezije tokom studija sa kvalifikacionim ispitom I završenom srednjom školom", XLVI Simpozijum o operacionim istraživanjima SYM-OP-IS, Kladovo, pp. 586-591, 2019.
LJ. Preradović, S. Kosić-Jeremić, "Student achievement in the university entrance examination and the effects of preparation classes", Technical gazette, vol.22, No.3, pp.785-791, 2015. doi: 10.17559/TV-20140513114019
A. Szavits-Nossan, "Bolonjska deklaracija i novi studij građevinarstva", Građevinar, 58, pp.357-366, 2006.
C. Mesquita, P.L. Lopes, "Gender Differences in Higher Education Degree Choice", 10th International Conference on Education and New Learning Technologies, pp. 9794-9801 , Palma Malorca, Spain, 2018. doi: 10.21125/edulearn.2018.2358
R. King, "Gender Differences in Experience of Higher Education: quantitative and qualitatuve Approaches", Educational Psychology: An International Journal of Experimental Educational Psychology, Taylor & Francis Online, vol.11, Issue 3-4, pp. 363-382, 2010. doi: 10.1080/0144341910110311
D. Starovoytova Madara, S.Sitati Namango, "Longitudinal Comparative Study: Females' vs. Males' Graduation Outcomes in Undergraduate Engineering", Journal of education and Practise, Vol.7, No. 30, 2016
LJ. Preradović, V. Đajić, Analitičko-statističke tehnike u savremenim istraživanjima, Arhitektonsko-građevinski fakultet Univerziteta u Banjoj Luci, 2011.
S. Jakšić, S. Maksimović, Verovatnoća i statistika, teorijske osnove i rešeni primeri, Univerzitet u Banjoj Luci, Arhitektonsko-građevinsko-geodetski fakultet, 2020.
Institut za društvena istraživanja u Zagrebu: Tko studira i zašto?, Izvještaj o rezultatima projekta Socijalni identiteti, pristup visokom obrazovanju i odabir studija, https://www.idi.hr/sipvoos/IZVJESTAJ-za-web finalno.pdf, [03.04.2021.]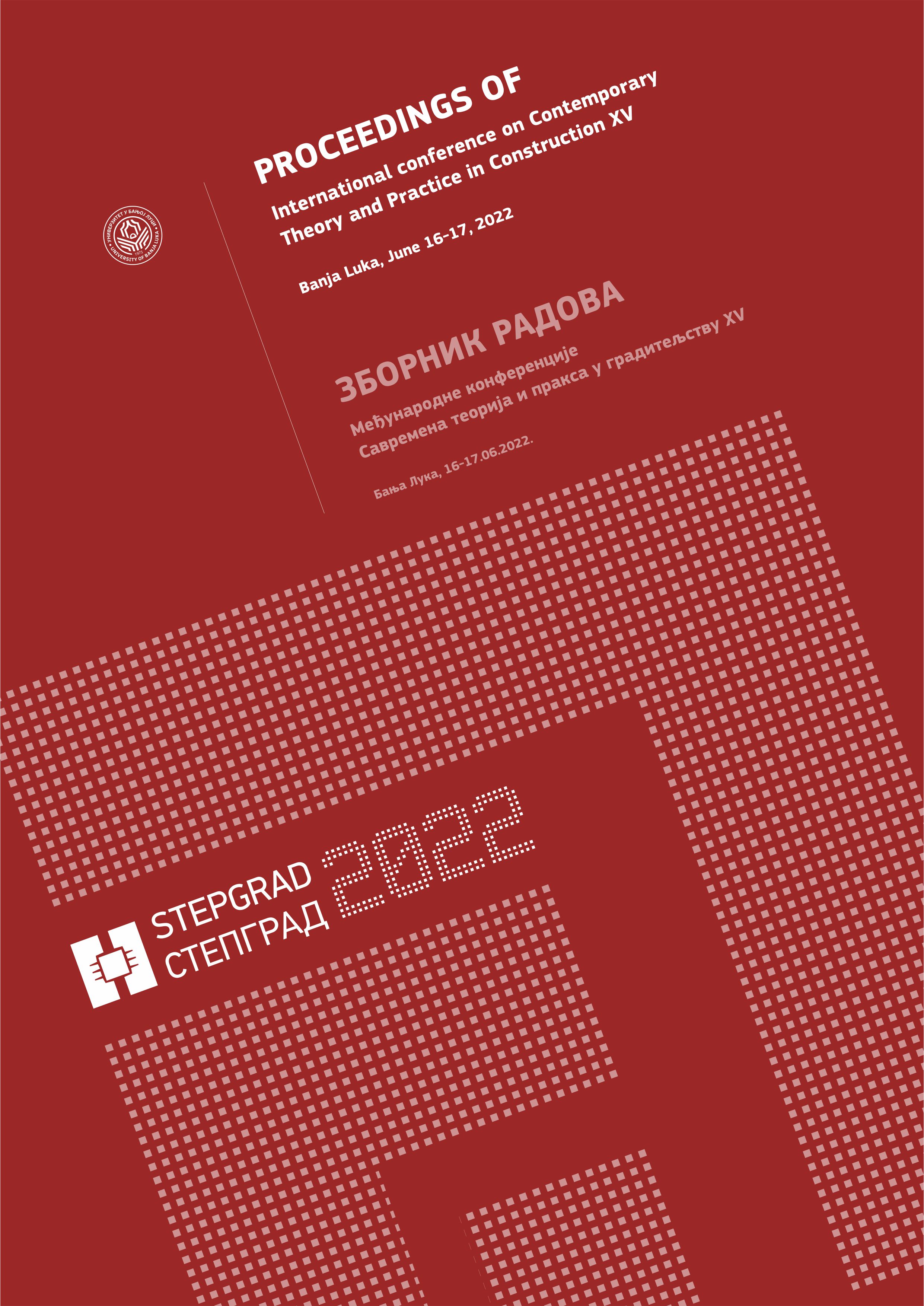 Downloads
How to Cite
[1]
L. Preradović, S. Kosić-Jeremić, M. Malinović, S. Maksimović, and Đorđe Stojisavljević, "GENDER DIFFERENCES IN THE ACHIVEMENTS OF CIVIL ENGINEERING STUDENTS", STEPGRAD, vol. 1, no. 15, pp. 334-340, Aug. 2022.