EDUCATION OF ARCHITECTURAL ENGINEERS IN SERBIA FOR THE SUSTAINABLE DEVELOPMENT MODEL
Abstract
Understanding the developmental needs of society, engineers have always enabled the development of civilization. Due to the challenges they faced and the tasks that await engineers in the future, there is a need for their new knowledge and skills, necessary to solve problems related to the paradigm of sustainable development. This paper analyzes the requirements of the sustainable development model and the role of architectural engineers in creating solutions within this model. The basic potential for sustainable development consists of educated and professional people in general, education and training of architectural engineers for efficient performance, in modern conditions imposed by globalization with strong competition in the open world market and knowledge society.
References
S. M. Malcom,The Human Face of Engineering, Journal of Engineering Education, 2008, 97(3), 237 – 238
T. P. Soubbotina, Beyond economic growth: meeting the challenges of global development, The World Bank, Washington, D.C., U.S.A. 2000.
D. Pupavac i D. Drakulić, Ekonomija održivog razvoja, XXII naučni skup međunarodnog značaja "Tehnologija kultura i razvoj", Palić 2015., str. 119-137
AGENDA 21, United Nations Conference on Environment & Development, Rio de Janeiro, Brazil, 3 to 14 June 1992.
B. Katalinić, idr., Inženjeri za inovativno društvo, XVII Skup trendovi razvoja: "EVROPA 2020: društvo zasnovano na znanju", Kopaonik, 07. - 10. 03. 2011., pp. 1-9
G. C. Giju et al., Knowledge Management – the Key Resource in the Knowledge Economy, Theoretical and Applied Economics, Vol. XVII (2010), No. 6(547), pp. 27-36
A. Sekulić: Obrazovanje inženjera za tržišnu privredu – institucionalne pretpostavke, Tehnika, Mašinstvo, Vol LII (1997) br. 5-6
S. Beechler, I. C.Woodward, The global war for talent, Journal of International Management, Vol. 15 (2009), pp. 273-285
M. Mesarović, Intelektualni kapital kompanije za novi model održivog razvoja, Stručni časopis Energoprojekt, br. 11, 2001, str. 19-25
C. Vest, Context and challenge for twenty-first century engineering education, Journal of Engineering Education, 2008, 97(3), 235-236
M. Jakovljević, idr., Izazovi globalizacije i njihov utjecaj na privlačenje i zadržavanje talenata, Oeconomica Jadertina 2 (2012), pp 66-81
S. Beechler, I. C.Woodward, The global war for talent, Journal of International Management, Vol. 15 (2009), pp. 273-285
M. Krpan: "Značajke suvremenog inženjerstva", Strojarstvo, god. 38, br. 2-3 (1996), str. 71-72
Educating the Engineer of 2020: Adapting Engineering Education to the New Century, National Academy of Engineering, The National Academies Press, Washington, DC, 2005
M. Barbarić, Obrazovanje inženjera za kreativno i inventivno djelovanje, Doktorski studij na FSB: Uvod u znanstveno istraživački rad 2015/2016, Zagreb, 2015.
D. Golijanin, Izazovi kreativnosti u obrazovanju inženjera, 13. TELFOR, Beograd, 2005.
R. M. Castellanos, M. Y. Salinero, Factors which cause enterprises to invest in training: The Spanish case, Zbornik radova Ekonomskog fakulteta, Rijeka, Vol. 29(2011), No.1, pp. 133-151
A. H. Awang, et al., Training Impact on Employee's Job Performance: A Self Evaluation, Ekonomska istraživanja, Vol. 23(2010), No. 4, pp. 78-90
M. Roter-Blagojević: Nastava arhitekture na višim i visokoškolskim ustanovama u Beogradu tokom 19. i početkom 20. veka, Godišnjak grada Beograda knj. XLIV,1997
B. Lj. Folić: Nova škola arhitekture u Beogradu i promene u školovanju arhitekata 1968-1974 (doktorska disertacija odbranjena na Arhitektonskom fakultetu Univerziteta u Beogradu 2015. godine)
S. Kosanović, B. Folić: Green themes in Architectural Curiculum-Scope and Content, Igra Ustvarijalnosti, br.1, 2013
P. Buchanan: The Big Rethink: Rethinkig Architectural Education, Architectural Review, no. 10, 2012
K. Rhowbotham: Problem in the British Architecture School Regime, Architectural Review, no.10, 2012.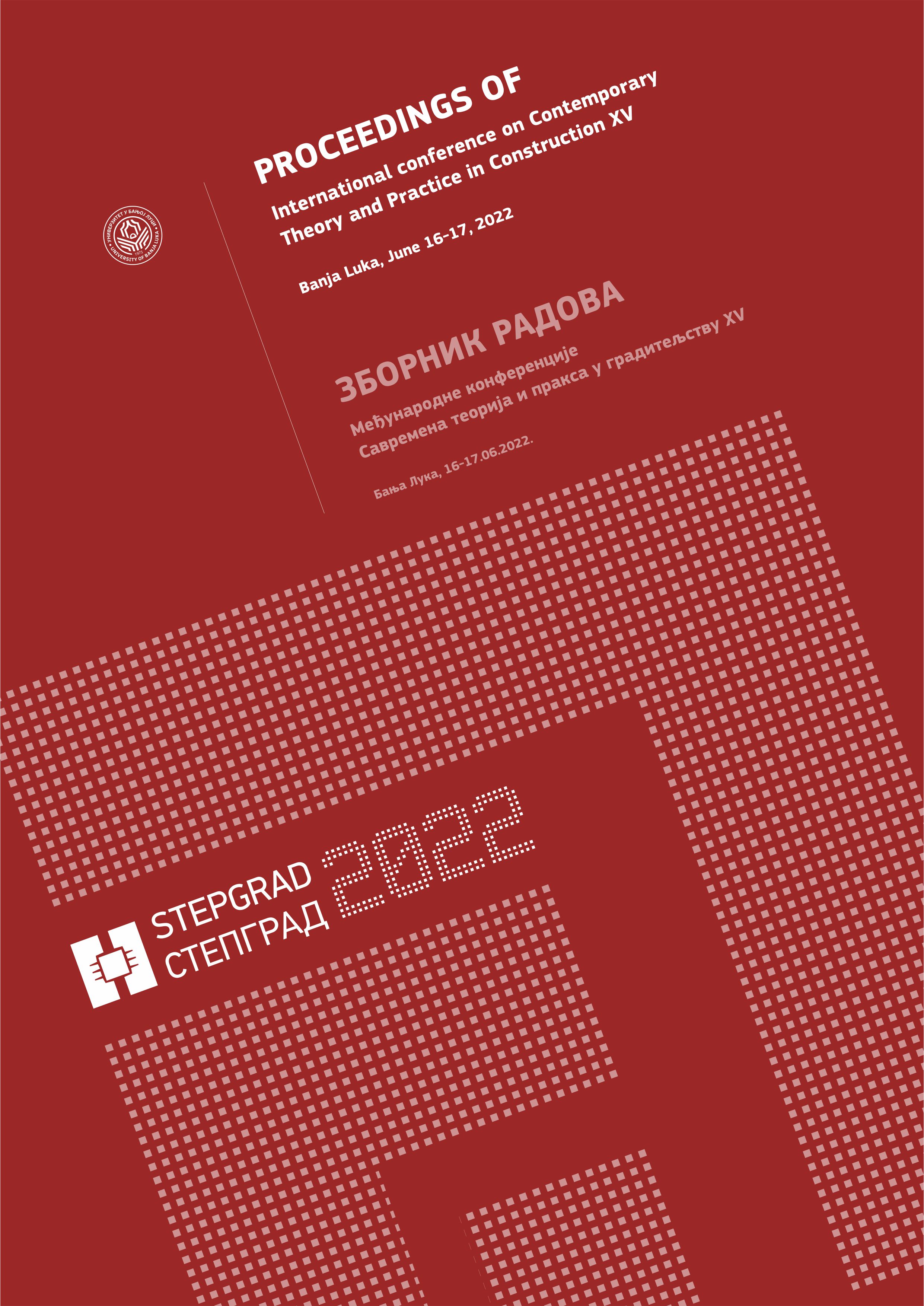 Downloads
How to Cite
[1]
M. Mihajlović and L. Stošić Mihajlović, "EDUCATION OF ARCHITECTURAL ENGINEERS IN SERBIA FOR THE SUSTAINABLE DEVELOPMENT MODEL", STEPGRAD, vol. 1, no. 15, pp. 341-351, Aug. 2022.