PROCEDURE FOR PREPARATION OF TECHNICAL DOCUMENTATION FOR REGISTRATION OF CONDOMINIUM OWNERSHIP
Abstract
For efficient state development, regulated land administration is core. The biggest part of achieving this goal is the activity on organizing efficient land administration. Implementing the number of projects in Federation of Bosnia and Herzegovina and Republic of Srpska is partially managed to get the administration to another level. The activity aims are to provide unambiguous data in and land register and to connect them with the real situation on the land. Recording of condominium units improves land administration and contributes to the development of the real estate market, making planning documents and economic development.
References
Републичка управа за геодетске и имовинско-правне послове, "Правилник о оснивању и одржавању катастра непокретности Републике Српске", "Службени гласник Републике Српске", бр. 11/14, 25/14 и 31/15.
I. Tušinec "Etažiranjem do vlasničkih ovlasti", Ekscentar, No 7. Studentski Zbor Geodetskog fakulteta Sveučilišta u Zagrebu, Zagreb, vol. 23-29, 2005.
D. Kontrec, "Upis etažnog vlasništva (vlasništva posebnog dijela nekretnine) u zemljišnoj knjizi (s posebnim osvrtom na upise izvršene prije stupanja na snagu Zakona o vlasništvu i drugim stvarnim pravima, dvojbe i problemi u praksi)", Zbornik Pravnog fakulteta Sveučilišta u Rijeci. Vol. 30, No. 1, vol. 703-724, 2009.
V. Šutalo, "Izrada tehničke dokumentacije za upis etažnog vlasništva." Master rad, Arhitektonsko-građevinsko-geodetski fakultet, Banja Luka, 2019.
Republička uprava za geodetske poslove i katastar nekretnina, "Pravilnik (sa prilozima) o izlaganju na javni uvid podataka premjera i katastarskog klasiranja zemljišta i određivanje upisa prava na nekretninama", Socijalistička Republika Bosna i Hercegovine, Sarajevo, 1989.
Federalna uprava za geodetske i imovinsko-pravne poslove, "Projektni zadatak-Tehničke specifikacije za harmonizaciju-usaglašavanje podataka o nekretninama katastra i zemljišne knjige", 2017.
I. Lesko, E. Mehmedovic, Ž. Obradovic, "Cadaster and Land Registry Harmonization in the Federation of Bosnia and Herzegovina", FIG Working Week 2015. From the Wisdom of the Ages to the Challenges of the Modern World. Sofia, Bulgaria, (https://fig.net/resources/proceedings/fig_proceedings/fig2015/papers/ts06b/TS06B_lesko_mehmedovic_et_al_7700.pdf), [25.11.2019].
Geoportal, Internet: https://www.katastar.ba/geoportal, 2015 [14. 1. 2022.]
CILAP, Internet: https://www.rgurs.org/stranica/cilap, 2013 [15. 1. 2022.]
D. Macanović i M. Đurić, "Od nastanka katastra u Bosni i Hercegovini do katastra nepokretnosti kao registra nepokretnosti i stvarnih prava na njima", Zbornik radova, VI. Hrvatski kongres o katastru, 11.-14.4.2018, Zagreb, str. 29-36, 2018.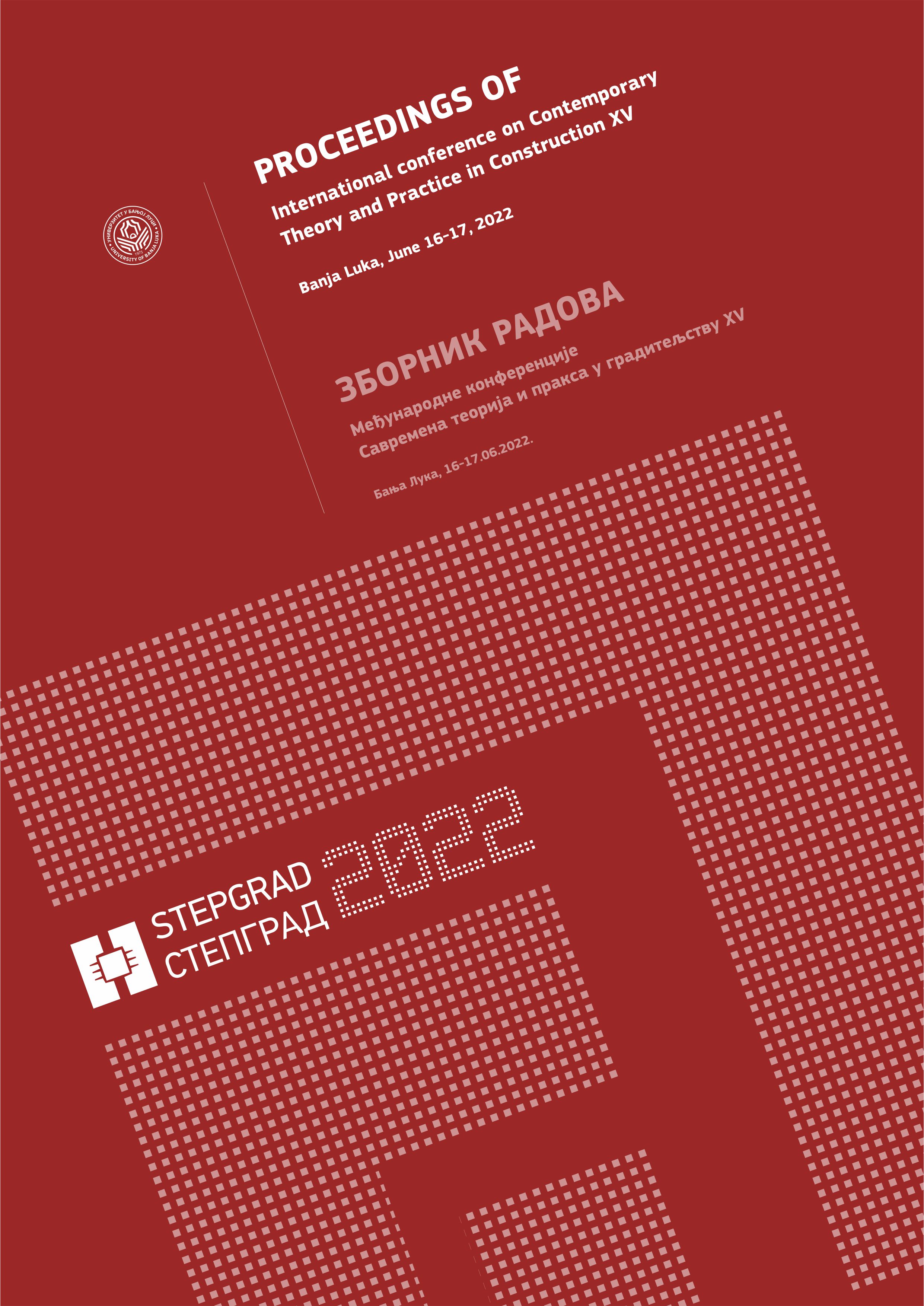 Downloads
How to Cite
[1]
V. . Šutalo, D. Macanović, and D. Skorup, "PROCEDURE FOR PREPARATION OF TECHNICAL DOCUMENTATION FOR REGISTRATION OF CONDOMINIUM OWNERSHIP", STEPGRAD, vol. 1, no. 15, pp. 687-697, Mar. 2023.