GEODETIC WORKS ON THE CONSTRUCTION OF THE MRKE TUNNEL IN THE CONTEXT OF METHOD OF EXECUTION OF WORKS AND GEOMORPHOLOGICAL CONDITIONS
Abstract
In this paper geodetic works during the excavation of tunnels are presented, with specific example of Mrke Tunnel on the highway section Smokovac -Mateševo in Montenegro. All phases of geodetic works have been presented, such as the construction of underground and overground geodetic networks, control of tunnel excavation process, as well as geodetic works on the monitoring of radial deformations during the excavation. The New Austrian Tunnel Method (NATM) has been implemented for the excavation of the Mrke Tunnel, therefore the concept of active geotechnical design was presented and the review of specific geodetic works on surveying and monitoring with reference to its application was provided. The geomorphological conditions of the surveyed structure have also been presented.
References
А. Беговић, "Инжењерска геодезија 2". Београд, Научна књига, 1990.
Министраство саобраћаја и поморства, China Road and Bridge Corporation, Geo Max group d.o.o., "Главни пројекат геодетске мреже за тунел Мрке". Podgorica, 2015.
Д. Димитријевић, "Тунели пројектовање и грађење". Београд, Завод за издавање уџбеника, 1964.
Kонзорцијум Inter Project-Entasis d.o.o., "Елаборат процјене утицаја Ауто пута на животну средину дионица Смоковац-Матешево". Подгорица, 2015, pp. 1-646.
З. Kаповић, "Геодезија у нискоградњи". Загреб, Свеучилиште у Загребу, Геодетски факултет, 2010.
Ј. Максимовић, З. Сушић, М. Батиловић, Р. Ђуровић, Т. Нинков, "High precision geodetic works in the tunnel breakthrough process". INDIS, Нови Сад, 2018, pp. 491-496.
M. Hudec: "Nova Austrijska Tunelska Metoda". Загреб, Sveučilište u Zagrebu, Rudarsko geološko naftni fakultet, Sveučilišna skripta, 2000.
М. Савановић, "Прилог развоју методологија израде оптималних пројеката локалних геодетских мрежа метроа". Докторска дисертација, Факултет техничких наука, Нови Сад, 2017.
N. Clarke-Hackston, M. Messing, E. Ullrich, "Geodetic Instrumentation for Use on Machine Bored Tunnels". Zurich, 1st International Conference on Machine Control & Guidance, ETH Zurich, 2008.
China Road and Bridge Corporation, "Пројекат тунела Мрке". Подгорица, 2015.
Ч. Цветковић, "Примена геодезије у инжењерству". Београд, Грађевинска књига, 1970.
Bieniawski, Z.T., "Rock Mass Classification in Rock Engineering. In: Bieniawski, Z.T., Ed.", Symposium Proceedings of Exploration for Rock Engineering, 1, 1976, pp. 97-106.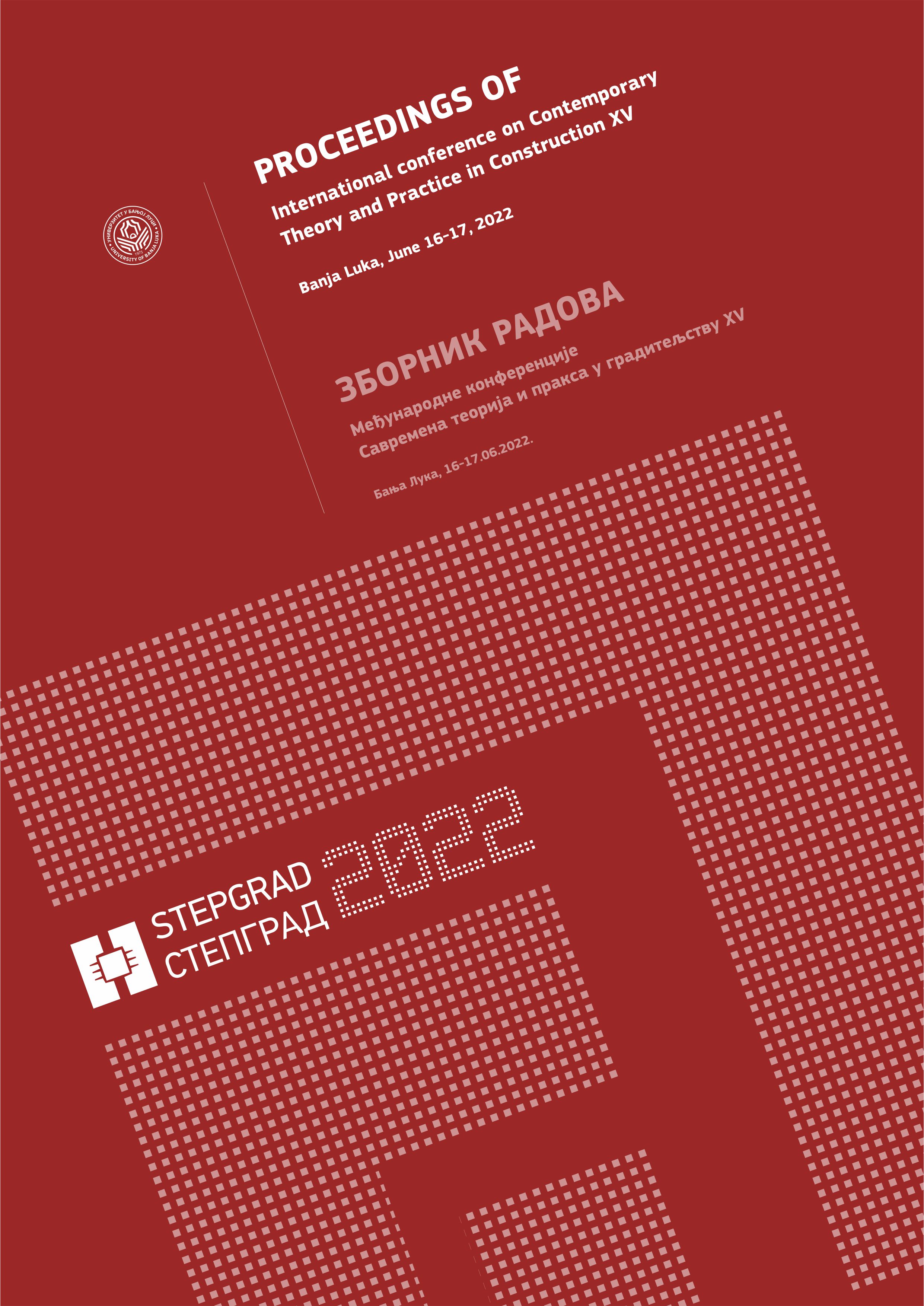 Downloads
How to Cite
[1]
R. Đurović, I. Mrdak, G. Nikolić, Z. Sušić, and M. Marković, "GEODETIC WORKS ON THE CONSTRUCTION OF THE MRKE TUNNEL IN THE CONTEXT OF METHOD OF EXECUTION OF WORKS AND GEOMORPHOLOGICAL CONDITIONS", STEPGRAD, vol. 1, no. 15, pp. 698-708, Mar. 2023.