EXPERIMENTAL DETERMINING OF ENERGY EFFICIENCY OF PV SOLAR POWER PLANT AT THE FACULTY OF SCIENCES AND MATHEMATICS IN NIŠ
Abstract
This paper presents basic information on a 2 kW solar power plant at the Faculty of Sciences and Mathematics in Niš and the equipment for its energy efficiency determination depending on the real meteorological conditions (inverter, communication system, sensor, etc.). Additionally, the results are shown of experimental determination of energy efficiency of the solar power plant at the Faculty of Science and Mathematics in Niš from June 1, 2013 to September 1, 2013 (energy of the Sun radiation, ambient temperature, wind velocity, generated electrical e
References
[1] B. Parida, S. Iniyan, R. Goic, A review of solar photovoltaic technologies Renewable and Sustainable Energy Reviews, Vol. 15−3 (2011) 1625−1636.

[2] C. S. Solanki, Solar photovoltaic technology and systems: A manual for technicians, trainers and engineers, Asoke K. Ghosh, PHI Learning Private Limited, Rimjhim House, Delhi, India, 2013, 1−306.

[3] T. Pavlović, D. Milosavljević, D. Mirjanić, Obnovljivi izvori energije, Akademija nauka i umjetnosti Republike Srpske, Banja Luka 2013, str. 1−364 [Renewable energy sources, Academy of sciences and arts of the Republic of Srpska, Banja Luka, 2013, pp. 1−364].

[4] T. Pavlović, D. Milosavljević, D. Mirjanić, L. Pantić, I. Radonjić, D. Piršl, Assessments and perspectives of PV solar power engineering in the Republic of Srpska (Bosnia and Herzegovina) Renewable and Sustainable energy Review, Vol.18 (2013) 119−133.

[5] T. Pavlović, D. Milosavljević, D. Mirjanić, L. Pantić, Investigation of the energy efficiency of solar power plants power of 2kW at the Faculty of Sciences and Mathematics in Nis and the Academy of Sciences and Arts of the Republic of Srpska in Banja Luka, in Serbian, Proceedings of XII Congress of physicists of Serbia, Association of the Physicists of Serbia, Belgrade 2013, pp. 436−439.

[6] http://www.sma.de/en/products/monitoring-systems/sunny-sensorbox.html#Downloads-9283

[7] http://www.sunnyportal.com

[8] E. Kymakis, S. Kalykakis, T. M. Papazoglou, Performance analysis of a grid connected photovoltaicpark on the island of Crete, Energy Conversion and Management, Vol. 50 (2009) 433–438.

[9] www.cleanenergycouncil.org.au/.../grid-connect-pv...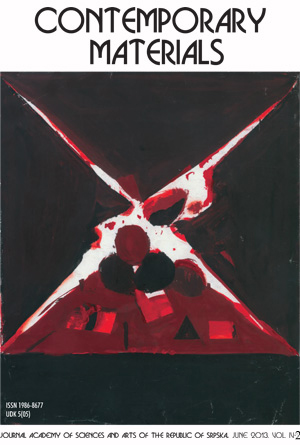 Downloads