THE STUDY OF ENERGY EFFICIENCY OF MONOCRYSTALLINE SILICON MODULES
Abstract
This paper presents the effect of temperature and wind speed on physical characteristics of monocrystalline silicon solar modules, which are placed on the building of the Academy of Sciences and Arts of the Republic of Srpska in Banja Luka. Measurements of the solar modules were carried out by UI analyzer for photovoltaic PV-KLA and Mini PV-KLA. Meteorological parameters (temperature, wind speed and intensity of solar radiation) were measured using the automatic meteorological station Davis Vantage Pro-USA. This paper gives the results of comparisons between theoretically obtained energy efficiency and experimentally obtained energy efficiency of the monocrystalline silicon modules in relation to their characteristics.
References
[1] T. Pavlović, D. Milosavljević, D. Mirjanić, Obnovljivi izvori energije, Akademija nauka i umjetnosti Republike Srpske, Banja Luka 2013, str. 1−364 [Renewable energy sources, Academy of sciences and arts of the Republic of Srpska, Banja Luka, 2013, pp. 1−364].

[2] A. Luque, S. Hegedus, Handbook of Photovoltaic Science and Engineering, Second Edition, 2011, John Wiley & Sons, pp. 1−1166.

[3] T. Pavlović, Z. Pavlović, L. Pantić, LJ. Kostić, Determining optimum tilt angles and orientations of photovoltaic panels in Nis, Serbia, Contemporary Materials, Vol. I−2 (2010) 151−156.

[4] E. S. Koplaki, J. A. Palyvos, On the temperature dependence of photovoltaic module electrical performance: A review of efficiency/power correlations, Solar Energy, Vol. 83 (2009) 614–624.

[5] G. Xydis, On the exergetic capacity factor of a wind − solar power generation system, Journal of Cleaner Production (2012) 1−9.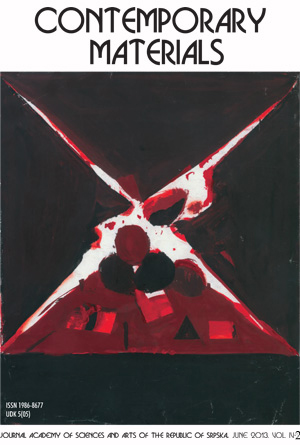 Downloads