CURRENT STATE AND PROSPECTS FOR RENEWABLE ENERGY SOURCES WITH A SPECIAL EMPHASIS ON POTENTIAL OF SOLAR ENERGY IN THE WORLD, EUROPE AND BOSNIA AND HERZEGOVINA
Abstract
Energy security and stability are currently the main issues throughout the world. Applied research is carried out all over the world in order to increase a share of renewable energy sources in the overall task of energy generation. In near future environmentally friendly energy sources should be found that will enable the mankind to cover its energy needs. Renewable energy sources are currently offered worldwide as an environmentally friendly and acceptable solution; however, one may always wonder whether it is realistic to expect such energy sources to be developed at a level sufficient to meet the mankind's ever increasing energy needs. This caution is caused by the following facts associated with the renewable energy sources available today: the wind energy is not everywhere available in sufficient quantities, solar energy is not sufficiently used, hydropower (we refer to small hydro power plants), is not big enough for this quantity of energy, geothermal energy can be optimally used only at places where thermal energy from the inner core of the Earth is near the surface, tidal energy (energy of the waves) has great potentials but is very little used due to its scarcity and non-accessibility, bioenergy, as a substitute for conventional fossil fuels, is not completely environmentally friendly or acceptable due to the emission of greenhouse gases in the atmosphere. On the other hand, without implementing the adequate policies in the energy sector operation, it is not possible to have any industrial, economic or social progress in the world. Energy security and stability are only one part in achieving the ultimate goals: sustainable economy, clean environment, high standard of living, prosperity and health of the population. In the light of all the above, the paper will investigate the state and perspective of renewable energy sources with a special emphasis on the potential of solar energy.
References
[1] BP Statistical Review of World Energy 2013.

[2] Global renewable Energy Development, October, 2012.

[3] Hugh Ahlenius , UNEP / GRID - Arendal Maps and Graphics Library]

[4] Eurostat news release 65/2013, 26. April 2013.

[5] M. Šúri, T. A. Huld, E. D. Dunlop, H. A. Ossenbrink, Potential of solar electricity generation in the European Union member states and candidate countries, Solar Energy, Vol. 81 (2007) 1295–1305.

[6] F. Vanek, L. Albright, L. Angenent, Energy Systems Engineering: Evaluation and Implemen-tation, Conveo Publisher Service, New York 2012.

[7] D. Bago, Solar energy in Bosnia and Herzegovina, Association of entrepreneurs of Posušje 2011.

[8] V. Doleček, I. Karabegović, Renewable Energy Sources of Bosnia and Herzegovina: State and Perspectives, 8th International Conference on Renewable Energy and Energy Efficiency, Montenegrin Academy of Sciences and Arts, 7. October 2013, Podgorica, Montenegro, 2013.

[9] I. Raguzin, Model of costs and profits analysis in biomass utilization in electrical energy generation, Master thesis, Mechanical engineering faculty, Slavonski Brod 2011.

[10] D. Šljivac, Z. Šimić, Renewable sources of energy, AWERES, FER, Zagreb 2009.

[11] M. Banjac, Renewable sources of energy in Serbia, SREM, Ruma 2012

[12] Union of Concerned Scientists, Benefits of Renewable Energy Use, 1999.

[13] G. Granić, M. Željko, Study of energy sector in Bosnia and Herzegovina. Module 1, 2, 3, 4, 5, 6, 7, 8, 9, 10, Sarajevo 2008.

[14] J. Armstrong, J. Hamrin, What are "Renewable Resources"?, Chapter 1: Renewable Energy Overview, Cost-Effectiveness of Renewable Energy, Organization of American States, 2013.

[15] http://cleantechnica.com/solar-power/#%20amg0HUyXr5phZWE3.99,06.01.2014.

[16] www.gregor.us/dana:bp statistical review,08.01.2014.

[17] http://re.jrc.ec.europa.eu/pvgis/,14.01.2014.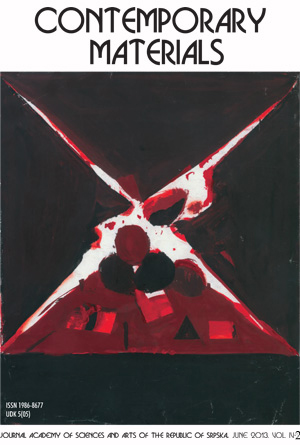 Downloads