THE RISKS IN THE USE OF BIOGAS AND BIOMASS IN PLANTS FOR GENERATING HEAT AND ELECTRICITY
Abstract
The use of biomass in the world is significant not only in terms of immediate solving of the problem of the lack of energy and its high prices, but also in terms of solving the problem of environment protection. Biogas is especially convenient when it comes to using biomass as a renewable energy source. Biogas digesters use degradable organic matter, from which two useful products, fermented biogas and fertilizer can be obtained. The paper analyzes the data of the combustion products of a cogeneration biogas plant and of a boiler plant for generating thermal energy. The analysis showed thatduring the use of biomass containing lignin, the products of combustion and thermal decomposition release benzenes, which are dangerous substances for human health. In case of thermal decomposition of biogas, combustion products are significantly less dangerous for human health.
References
T. M. Pavlović, D. D. Milosavljević, D. Lj. Mirjanić, Renewable energy sources [In Serbian: Obnovljivi izvori energije], Banja Luka 2013, 364.

M. Jovanović, D. Radaković, F. Kiš, The Significance of biogas production in agricultural economies of Vojvodina [In Serbian: Značaj proizvodnje biogasa na poljoprivrednim gazdinstvima Vojvodine], Novi Sad 2008, 177− 187.

B. Simendić, R. Mićić, Application of biomass as renewable energy source [In Serbian: Korišćenje biomase kao obnovljivog izvora energije], Kopaonik 2013, 303−308.

M. Brkić, T. Janić, New assessment of kinds and amounts of biomasses for energy production in Vojvodina [In Serbian: Nova procena vrsta i količina biomasa Vojvodine za proizvodnju energije], Novi Sad 2010, 178−188.

M. Martinov, Đ. Đatkov, J. Krstić, M. Tešić, G. Dragutinović, M. Golub, S. Bojić, M. Brkić, B. Ogrizović, Study of overall potential and possibilities of production and application of biogas in the territory of AP Vojvodina [In Serbian: Studija o proceni ukupnih potencijala i mogućnostima proizvodnje i korišćenja biogasa na teritoriji AP Vojvodine], Novi Sad 2011.

M. Efenberger, A. Gronauer, M. Bukurov, Contribution to the environment protection by using biogas [In Serbian: Doprinos zaštiti životne sredine korišćenjem biogasa], Novi Sad 2004 68−71.

M. Efenberger, A. Gronauer, R. Kissel, M. Tesić, Modern systems for production of gas and electricity - technical, economical and ecological aspects [In Serbian: Savremeni sistemi za proizvodnju gasa i struje − tehnički, ekonomski i ekološki aspekti], PTEP 8, 3−4 (2004) 50−55.

B. Škrbić, V. Marinković, V. Milanko, S. Spaić, Benzene in products of combustion and thermal degradation of poplar wood sawdust [In Serbian: Benzen u proizvodima sagorevanja i termičke razgradnje piljevine drveta topole], Kopaonik 2014, 140−148.

Ј. Kibelt, L. Khachatryan, B. Dellinger, Molecular Products and Radicals from Pyrolysis of Lignin, Environmental Science and Technology, Vol. 46 (2012) 12994−13001.

M. Bokan, Biogas, electricity and heat plant: dangers and noxiousness [In Serbian: Postrojenje za proizvodnju biogasa, elektične i toplotne energije, opasnosti i štetnosti, Specijalistički rad], Novi Sad 2014.

V. Milanko, S. Spaić, V. Marinković, BTEX Combustion and Pyrolysis Products of Poplar Wood Pellets, Antalya, Turkey 2014.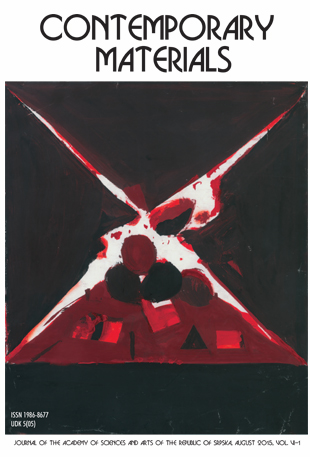 Downloads