THE PREPARATION OF COMPOSITE MATERIALS BASED ON MAGNETITE NANOPARTICLES AND SODIUM ALGINATE FOR WASTE WATER PURIFICATION
Abstract
: The use of synthetic chemical dyes in various industries, including plastics, paper manufacturing, cloth dyeing, printing and leather treatment, has increased considerably over the last years, resulting in the release of dye-containing effluents into the  aquatic and soil ecosystems. There are many techniques to remove the waste after dying process (coagulation, chemical precipitation, reverse osmosis, extraction, filtration, biological treatment and adsorption). The releasing of dyes from many industrial plants is environmentally hazardous. The most important goal for the waste water purification is to find the low-cost adsorbents with high selectivity and long life. In our study, an effort has been made to prepare efficient composite materials for dyes removal from aqueous solution based on medium molecular weights deacetylated chitin i.e. poly(D-glucosamine) and a bio-degradable nontoxic anionic polysaccharide sodium alginate filled with magnetite nanoparticles. Alginate composite beads coated with poly(D-glucosamine) were prepared using layer-by-layer (LbL) deposition method. During the adsorption process the concentrations of dyes in solution waste were determined according to the general spectrophotometer method.
References
G. Z. Kyzas, D. N. Bikiaris, Recent Modifications of Chitosan for Adsorption Applications - A Critical and Systematic Review, Mar Drugs, Vol. 13−1 (2015) 312–337.

M. Vakili, M. Rafatullah, B. Salamatinia, A. Abdullah, M. Ibrahim, K. Tan, Z. Gholami,
P. Amouzgar, Application of chitosan and its derivatives as adsorbents for dye removal from water and wastewater − A review, Carbohydrate Polymers, Vol. 113 (2014) 115–130.

P. Wang, T. Yan, L. Wang, Dye uptake by magnetic chitosan BioResources Removal of CongoRed from Aqueous Solution Using Magnetic Chitosan Composite Microparticles, Bioresources, Vol. 8−4 (2013) 6026−6043.

M. Yagub, T. Sen, S. Afroze, H. Ang, Dye and its removal from aqueous solution by adsorption -A review, Advances in Colloid and Interface Science, Vol. 209 (2014)172–184.

R. Sivashankar, A. Sathya, K. Vasantharaj, V. Sivasubramanian, Magnetic composite an environmental super adsorbent for dye sequestration – A review, Environmental Nanotechnology, Monitoring and Management, Vol. 1–2 (2014) 36–49.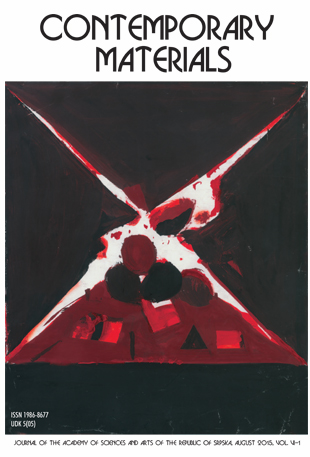 Downloads