A POSSIBILITY OF SYNTHESIS OF HIGH-ALUMINA CEMENTS FROM DIFFERENT RAW MATERIALS
Abstract
Calcium aluminate cements with high Al2O3 content are synthesized from different raw materials. Raw materials used in the synthesis include: lime, tricalcium aluminate hexahydrate, aluminum hydroxide and sodium aluminate solution. The preparation of raw material mixture for sintering was performed in two ways: the first method of preparation of a raw material mixture was by mixing powdered components (Al(OH)3 and CaO, Al(OH)3 and 3CaO·Al2O3·6H2O), another method included stirring into the liquid phase (NaAlO2, CaO and Al (OH)3) for a certain period of time at the temperature of 90°C, whereby the obtained solid phase was used as raw material for sintering. Chemical and mineralogical analysis (XRD) were performed on the cements obtained in synthesis. Based on chemical analysis it was concluded that the cements obtained were CAC 70 and CAC 80, as the Al2O3 content in these cements ranged from 70 to 75.37% for the first type, while the second type had a range of 77-79%. XRD analysis showed that the dominated minerals in cement CAC 70 were CaO• Al2O3 and CaO • 2Al2O3, and in cement CAC 80, mineral CaO • 2Al2O3, which is consistent with the findings published on these cements.
References
[1] J. Bensted, Calcium Aluminate Cements, in Structure and Performance of Cements, 2nd ed., London, 2002,114-138.

[2] C. M. George, Industrial aluminium cements, Structure and Performance of Cements, Applied Science, London,(1983) 415-470.

[3] P. Petrovski, I .Bušatlić, Cements and Other Nonmortar Binding Materials (Cementi i druga nemalterna veziva), HIJATUS, Zenica, 2006, 19−44.

[4] J. Mikić, M.S udar, Red Mud as a Base for the Synthesis of Iron Cements (Crveni mulj kao baza za sintezu željezovitih cemenata) VIII Scientific/Expert symposium with international partici-pation "Metal and non-metal materials", 2010, 309−315.

[5] P. C.Hewlett, Lea's Chemistry of Cement and Concentrate, 4th edition, Elsevier, Oxford, 2004, 713−775.

[6] H. F.W. Taylor, Cement Chemistry, Thomas Telford Publishing, London, 1997, 295−300.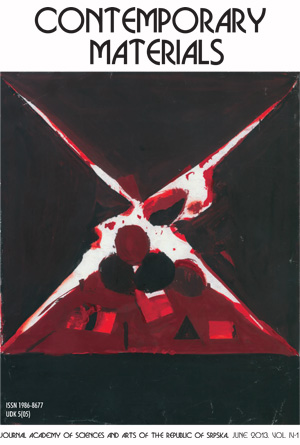 Downloads