INFLUENCE OF BLUE AND RED LEDs ON DEVELOPMENT AND NUTRITIVE VALUE OF PERILLA FRUTESCENS (L.) CULTIVATED IN CLIMATE CHAMBERS
Abstract
In this study influence of supplemental blue and red LED lighting on growth, nutrient solution uptake and concentration of secondary metabolites was investigated. Perilla plants were cultivated in climate chambers, where main light was provided by fluorescent tubes with PPFD between 123-177 μmolm-2s-1. Additionally, blue and red LEDs were used, providing 11 μmolm-2s-1 or 12 μmolm-2s-1, respectively. Temperature was set on 24/19°C (day/night), relative air humidity on 64/56% (day/night), and day length was 16 hours. Results showed that small portion of supplemental blue light (~9%) increased fresh mass (FM), dry
mass (DM), and nutrient solution uptake (NSU) up to 50.33%, 10.85% or 31.80%, respectively. Supplemental red light (~6%) increased nutrient solution uptake up to 23.56%, while fresh and dry mass were higher than control, but without statistical significance. Regarding nutritive value of Perilla, supplemental blue light significantly increased carotenoid concentration (Car) (+13.37%), but polyphenols (PP), anthocyanins (Anth) and flavonoid (Fl) concentrations did not differ from the control. In treatment with supplemental red light, only flavonoid concentration was significantly increased (+14.34%). Use of supplemental blue or red LEDs in closed systems with controlled conditions increase or tends to increase plants fresh mass, dry mass, nutrient solution uptake rate, as well as concentration of some secondary metabolites.
Keywords: Perilla, blue and red LEDs, climate chambers, growth and nutritive
value.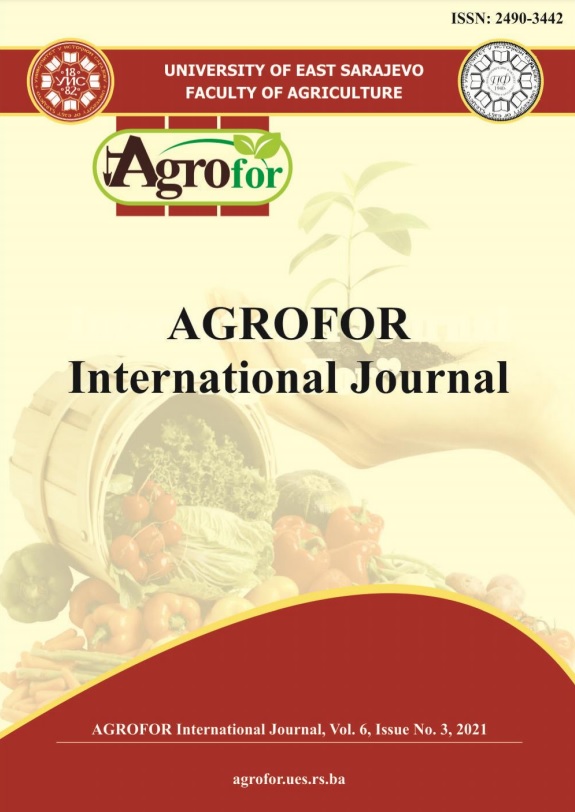 Downloads