THE STUDY OF PARTICULARITY OF BANJA LUKA WATERFRONT IN VIEW OF DEFINING THE COURSE OF ITS FUTURE DEVELOPMENT
Abstract
This Study examines the phenomenon of the relationship between the river as a natural
element and the urban environment as a human creation.Their mutual relationship is
observed through the topics which are related to the spatial - programmatic, perceptual,
aesthetic and cultural potentials that largely determine the identity of the place. The
example of the city of Banja Luka has been analyzed and presented from the point of view
of several criteria: positioning of the urban structure with relation to the river,
morphological and topographic characteristics, development level of the physical structure
of the waterfront, accessibility, distribution of contents and heritage. The Study gives an
overview of the results of the survey conducted among the users of the space with regard
to the identity, importance and the way of using the waterfront area. The values which
those specific urban areas may contain have been identified in order to formulate certain
recommendations intended to improve the waterfront.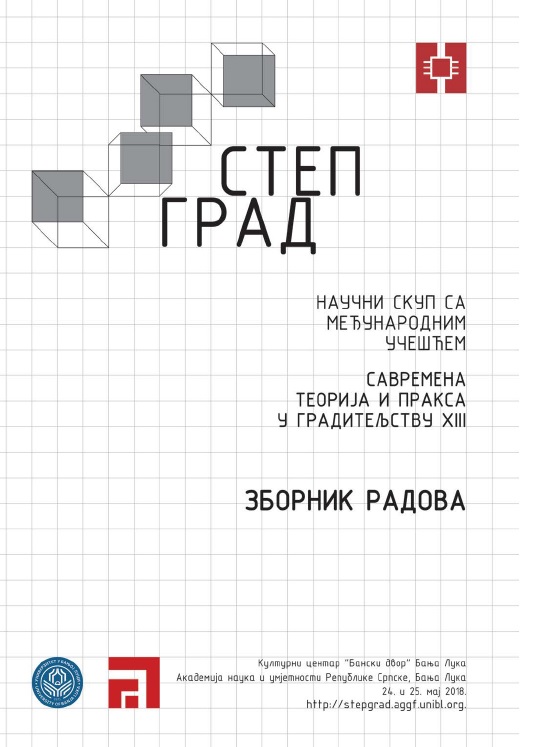 Downloads
How to Cite
[1]
M. Čvoro, "THE STUDY OF PARTICULARITY OF BANJA LUKA WATERFRONT IN VIEW OF DEFINING THE COURSE OF ITS FUTURE DEVELOPMENT", STEPGRAD, vol. 1, no. 13, Oct. 2021.