ARCHITECTURE AND TECHNOLOGIES AT THE TURN OF THE CENTURY: UNDERSTANDING AND TRANSLATION OF HISTORICAL MATERIAL
Abstract
21st century architecture, in line with the rapid development of technology, could be read through many different architectural expressions and movements in just the first two decades, but they all aim the same - sustainability and energy efficiency. The decade-long process of building the Faculty of Architecture and Civil Engineering in Banja Luka has been presented and tested several times from various aspects of architectural technologies, with energy tasks for the future and response to such targeted requirements. In this paper, the focus is on its roots in conceptual (post) modern architecture in order to understanding and translating the historical material of the ideology of expressive High Tech architecture, all in the context in which this new Faculty building is being created.
References
D. R. Ellie Haddad, Ур., "High Tech: Modernism Redux," у A Critical History Of Contemporary Architecture 1960 - 2010, Ashgate E-book, 2014, pp. 51-69.
L. Blagojević, "Ranko Radović: profesor, urbanist, arhitekt i teoretičararhitekture," Matica: časopis za društvena pitanja, nauku i kulturu, бр. 48, pp. 379-390, 2011.
R. Radović, "Posle "čiste" ide hibridna arhitektura ili kako izbjeći obe," у Novi vrt i stari kavez, Novi Sad, Stylos, 2005, pp. 55-57.
C. Davis, "High Tech Architecture," у Istorija moderne arhitekture, Beograd, Arhitektonski fakultet, 2005, pp. 459-476.
Asena Soyluk, "EVALUATION OF HIGH-TECH ARCHITECTURAL MOVEMENT FROM 20TH CENTURY TO TODAY IN TERMS OF CONSTRUCTION MATERIALS AND STRUCTURE," у Mimarlık Üzerine-1 , Iksad Publications, 2020, pp. 172-184.
M. Kordić, Međprostor, Beograd: Zadužbina Andrejević, 2012.
M. Č. Saša Čvoro, "THE TRANSFORMATION OF THE EXISTING," у INTERNATIONAL INTERDISCIPLINARY SCIENTIFIC CONFERENCE RADICAL SPACE IN BETWEEN DISCIPLINES - CONFERENCE PROCEEDINGS, Novi Sad, 2015.
Norman Foster interview: HSBC headquarters was "more than just a building". [Филм]. Dezeen: https://www.youtube.com/watch?v=5Yp7tIbz6D8&t=6s, 2020.
P. Tabb, "Greening Architecture: The Impact of Sustainability," у A Critical History Of Contemporary Architecture 1960 - 2010, D. R. Ellie Haddad, Ур., Ashgate E-book, 2014, pp. 91-115.
Č. Dženks, "Postskriptum II: Kasnomodernizam i Postmodernizam," уModerni pokreti u arhitekturi, т. VI, Beograd, Građevinska knjiga, 2003, pp. 447-467.
Richard Rogers interview: Pompidou Centre "captured the revolutionary spirit of 1968". [Филм]. Dezeen: https://www.youtube.com/watch?v=ug8cUl-xX88, 2013.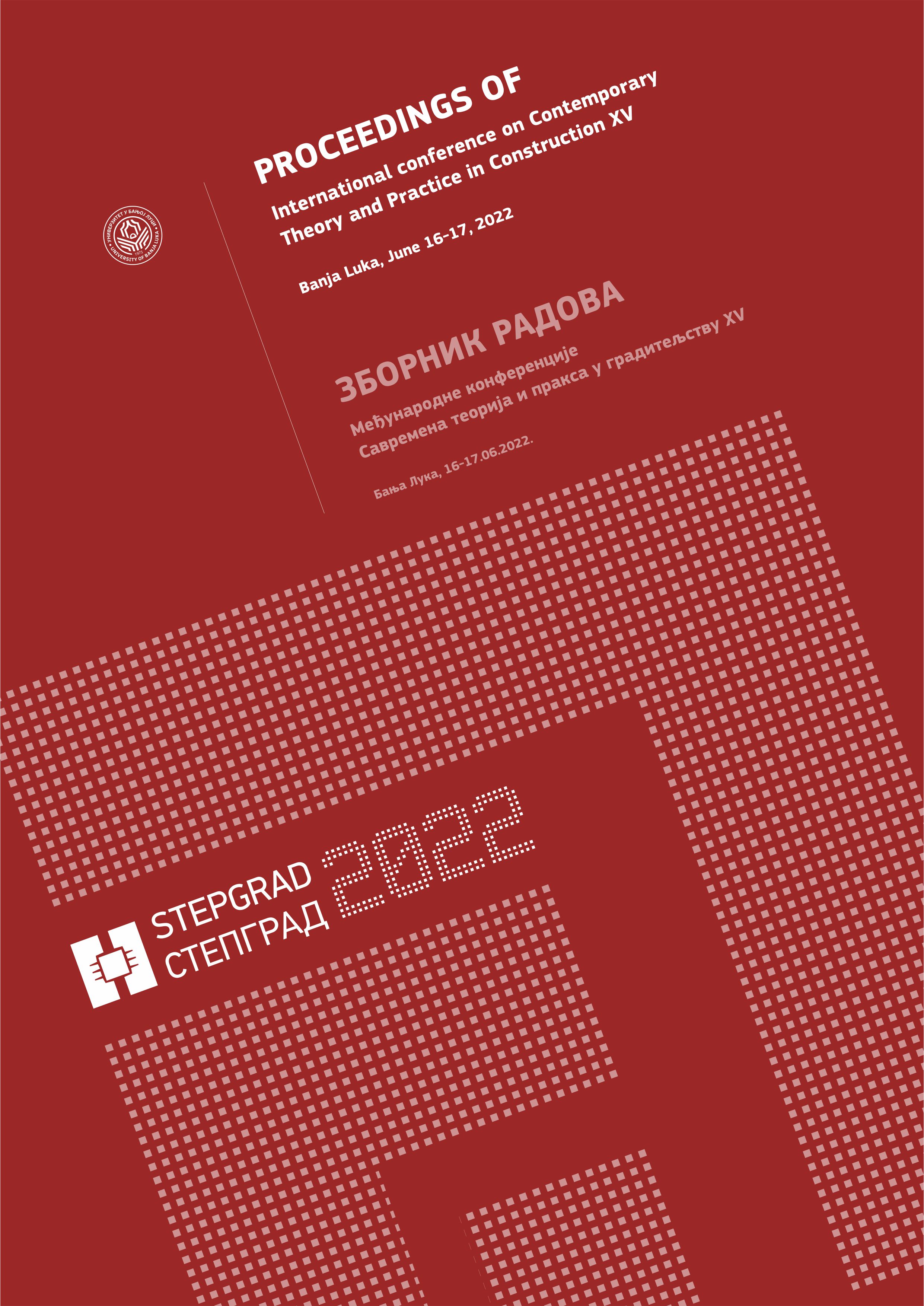 Downloads
How to Cite
[1]
S. Čvoro, M. Čvoro, and U. Okilj, "ARCHITECTURE AND TECHNOLOGIES AT THE TURN OF THE CENTURY: UNDERSTANDING AND TRANSLATION OF HISTORICAL MATERIAL", STEPGRAD, vol. 1, no. 15, pp. 448-456, Sep. 2022.