Analysis of anatomy and configuration of the canal system of the maxillary second premolar in the population of Bosnia and Herzegovina
Abstract
Introduction. Successful endodontic treatment depends upon the
clinician's knowledge and ability to recognize and diagnose the presence
of anatomical and morphological variations of the root and
canal system. The aim of this study was to establish the number of
roots and root canal configurations of the maxillary second premolar
in the population of Bosnia and Herzegovina.
Methods. The study sample was comprised of 150 maxillary second
premolar teeth extracted for orthodontic or prosthetic reasons. Endodontic
drills were used for trepanation of cavum dentis, and the
number and patency of each root canal were determined by K- expander
# 15. Then, the samples were decalcified, made transparent
and colored, to enable 3D viewing of the canal system. Decalcified
teeth were observed from two projections (clinical and approximal)
and analyzed in detail with a magnifying glass under 3 × and 5 ×
magnification in order to determine the number of roots, number
of canals, root canal configuration using Vertucci's classification and
number of anastomoses between canals. Statistical significance was
obtained using Chi-square test.
Results. The results obtained by decalcification of the teeth showed
that, by radiographic analysis from the clinical projection, all the
teeth had a single root. While, by the analysis from the approximal
projection, 94.0% had one, 6.0% two roots. From the approximal
projection, 70.7% with a single root canal and 29.3% with two root
canals are visualized. The most common type of root canal configuration
in the maxillary second premolars was Type I in both clinical
(87.9%) and approximal projection (40.7%).
Conclusion. These results emphasize the importance of knowing the
variations in root canal morphology, because excluding the possibility
of morphological variations can lead to failure of endodontic therapy.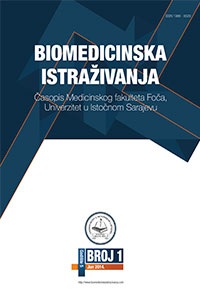 Downloads