Expression of tumor necrosis factor alpha, interleukin-1 and matrix metalloproteinase-9 and pathomorphological changes in acquired middle ear cholesteatoma
Abstract
Introduction. The inflammatory mediators play a central role in the
pathogenesis of the inflammatory process of the middle ear and cholesteatoma
from the aspect of initiating and maintaining the inflammatory
response to infection and lesion. The aim of the study was to
examine if the presence of acquired cholesteatoma could predict pathomorphological
changes of the tympanic cavity mucosa in relation to
the control tissue of the inflamed middle ear mucosa and to examine
and compare the expression levels of tumor necrosis factor-alpha
(TNF-α), interleukin-1 (IL-1) and matrix metalloproteinase 9 (MMP-9)
with pathomorphological changes in the middle ear mucosa in chronic
otitis media (COM), with and without acquired cholesteatoma (AC).
Methods. The immunohistochemical study included 178 patients of
both sexes, aged 5 to 75, who underwent microsurgical treatment
of COM from 2015 to 2018. Patients were divided into two groups
based on the presence or absence of AC of the middle ear: 97 with
cholesteatoma (CCOM) and 81 without cholesteatoma (COM). Samples
of the perimatrix of AC and inflamed middle ear mucosa were
taken intraoperatively. The condition of the tympanic cavity mucosa
was examined by otomicroscopy exploration intraoperatively. The
expression levels of TNF-α, IL-1 and MMP-9 were determined by immunohistochemical
analysis.
Results. The difference in the percentage distribution of patients according
to the condition of the tympanic cavity mucosa between both
groups was statistically significant (p <0.01) where in the COM group
the highest frequency was 43.2% of patients with mucosal hypertrophy,
and in the CCOM 56.7% with granulations. With highly positive
expression of TNF-R2 and IL-1, a higher probability of the presence
of mucosal hypertrophy and granulations can be expected, and with
highly positive expression of MMP-9 the presence of granulations.
Conclusion. Acquired middle ear cholesteatoma is a statistically
significant predictor of the occurence of mucosal hypertrophy and
granulations in the tympanic cavity in relation to the control tissue of
the inflamed middle ear mucosa. The high expression of TNF-R2, IL-1
and MMP-9 shows a statistically significant association with the presence
of granulations and mucosal hypertrophy in acquired middle
ear cholesteatoma which may have clinical significance in the evaluation
and prognosis of the disease.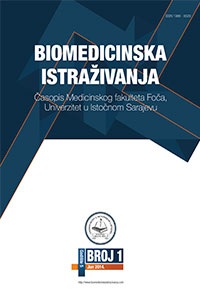 Downloads