RIPARIAN FOREST COMMUNITIES ALONG WATERCOURSES IN THE SUTJESKA NATIONAL PARK (SE BOSNIA AND HERZEGOVINA)
Abstract
The paper deals with the floristic and ecological diversity of the riparian forest and scrub communities
of the Sutjeska National Park in SE Bosnia and Herzegovina. Watercourses of the NP are represented by
montane to submontane small rivers and creeks with fast-flowing water and frequent strong but short
floods. This caused specific types of riverine forest vegetation to develop along their banks. Classification
and ordination methods of numerical analysis were applied on 42 relevés sampled in the field. The
classification has revealed five ecologically interpretable relevé groups: (1) willow scrub of Salix eleagnos
and S. caprea on fertile fine grained deposits; (2) forests of Alnus glutinosa and Salix alba also on
finer deposits; (3) narrow strips of Alnus glutinosa along the low banks of smaller streams; (4) narrow
strips of Alnus glutinosa along the steep banks of wider streams; (5) thermo-mesophilous scrub of Salix
eleagnos and Ostrya carpinifolia on gravel beds. All five groups are floristically and ecologically well
distinguished. While groups 1 and 3 are similar to already described communities from Central Europe
(Salicetum eleagno-purpureae and Stellario nemorum-Alnetum glutinosae, respectivelly), groups 4 and
5 most probably present, up to date, undescribed associations. Group 2 is rather floristically and ecologically
heterogeneous, and as such possess transitional character (between Salicion albae and Alnion
incanae alliances). Ordination revealed ecological gradient from nutrient rich (groups 1 and 2) to less
nutrient rich communities (groups 4 and 5).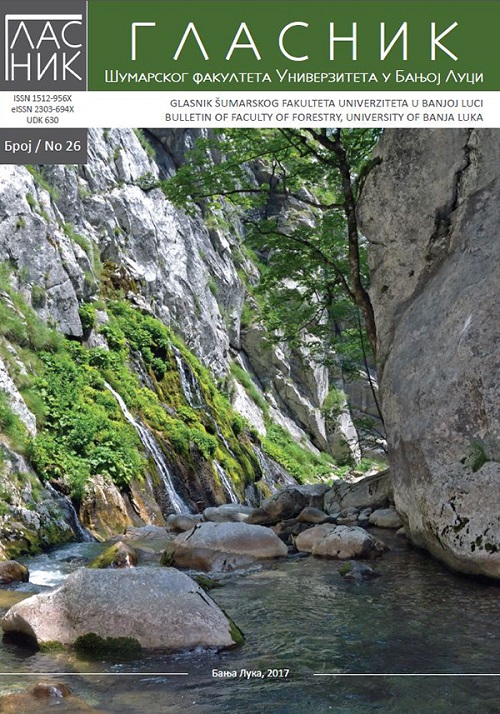 Downloads
Section
ОРГИНАЛНИ НАУЧНИ РАДОВИ