DISTRIBUTION AND POPULATION GROWTH OF EURASIAN BEAVER (Castor fiber LINNAEUS, 1758) IN BOSNIA AND HERZEGOVINA 10 YEARS AFTER REINTRODUCTION
##article.abstract##
Beaver is a semiaquatic mammal which inhabits suitable watercourses and water surfaces covered
by rich vegetation of woody and herbaceous species. In the past, it inhabited large areas from
south to the north European mainland, but in the early XX century, there were only six isolated
autochthonous populations left. The reason that led to the complete extinction of Eurasian beaver
in Bosnia and Herzegovina is the same as in Europe - excessive hunting.
Thanks to the actions of the beaver reintroduction to former habitats across Europe at the beginning
of the XXI century, the beaver is again spread over a wider area. In Bosnia and Herzegovina
beavers were reintroduced in 2005 and 2006, thus making it the 26th country that has helped to
increase the number of beavers. With the reintroduction of the beaver on the territory of Bosnia
and Herzegovina, it became protected species.
In the period from 2009 to 2016 a total of 964 records about the presence of beavers was collected.
Currently on the territory of Bosnia and Herzegovina there are at least 43 registered families and eight
individuals (singles). Having in mind that on average three individuals per family were registered, the
real abundance of beaver in Bosnia and Herzegovina could be approximately 140 individuals.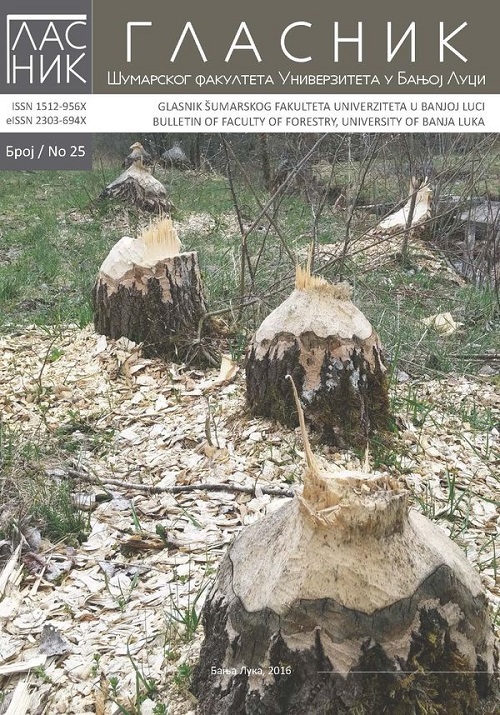 Downloads
##submissions.published##
##section.section##
ОРГИНАЛНИ НАУЧНИ РАДОВИ