Critical Resistance of a Hut – in Six Points (Cultivation of Critical Practice Through the Memorial House Design by the Architect Ranko Radović)
Keywords:
critical design practice, Architecture of Resistance, critical regionalism
Abstract
This paper deals with the importance of critical design practice in order to nurture, cultivate and build architectural culture. The main goal is to analyse the Memorial House in the Sutjeska National Park, designed by the architect Ranko Radović, through the scientific description, using Kenneth Frampton's theoretical text "Towards Critical Regionalism - Six Points for an Architecture of Resistance" as an analytical method. In a broader sense, the paper aims to draw attention to the idea of critical practice in modern circumstances by researching the design methodologies and principles based on tradition.
The research result is important for contemporary architectural theory and practice in our region and beyond. It indicates the importance of learning architecture based on knowledge and transferring the knowledge gained through the critical practice of our architectural heritage as one of the possible ways to rethink the architectural profession in contemporary conditions of its evident marginalisation under the force of the capital and universalisation of the built environment.
References
Lj. Blagojević, "Postmodernism in Belgrade Architecture: Between Cultural Modernity and Societal Modernisation," SPATIUM International Review, vol. 25, 2011, p. 23-29.
K. Frempton, Modern Architecture a Critical History. London: Thames & Hudson, 2000, pp. 314-327.
K. Frempton, "Towards a Critical Regionalism: Six Points for an Architecture of Resistance," in The Anti-Aestehetic Esseys on Postmodern Culture. Hal Foster, Ed., Washington: Bay Press, Port Townsend, 1983, pp. 16-30.
Lj. Blagojević, "Raskršća savremene arhitekture - Ranko Radović i diskurs postmodernizma," Kultura, vol. 134, 2012, pp. 182-199.
K. M. Hays, Architecture Theory since 1968. Cambridge: MIT, 1998.
Č. Dženks, Nova paradigm u arhitekturi: jezik postmoderne. Beograd: Orion Art, 2007.
R. Radović, "Moderna arhitekutra i tradicija," u Novi vrt i stari kavez. Novi Sad: Stylos, 2005, p. 51.
M. Malešević and M. Milić Aleksić, "Placemaking: Elements of Critical Regionalism in the Architecture of Mihailo Timotijević," Facta Universitatis. Architecture and Civil Engineering, vol. 18, no. 1, 2020, pp. 99-112.
P. Ricoeur , "Universal Civilization and Nationa Cultures," in Architectural Regionalism: Collected Writings on Place, Identity, Modernity, and Tradition, V. B. Canizaro, Ed., New York: Princeton Architectural Press, 2007, pp. 42-53.
F. Jameson, The Political Uncoscious. Ithaca: Cornell University Press, 1981.
R. Dinulović, "O kontinuitetu ideja i oblika u arhitekturi Ranka Radovića," Arhitektura i urbanizam, no. 16-17, 2005, pp. 14-19.
M. M. Aleksić and M. Radulj, "Savremena interpretacija tradicije u arhiteкturi Ranкa Radovića i Zlatкa Ugljena u oкviru Nacionalnog parкa Sutjesкa," u Zborniku radova sa XI naučno-stručne konferencije Graditeljsko nasleđe i urbanizam, 2021, pp. 334-343.
R. Radović, "Koliba – prvi oblik arhitekture," u Nova antologija kuća. Beograd: Građevinska knjiga, 2007.
Marc-Antoine Laugier, An essay on architecture in which its true principles are explained, and invariable rules proposed, for directing the judgement and forming the taste of the gentleman and the architect, with regard to the different kinds of buildings, the embellishment of cities. Los Angeles: Hennessey&Ingalls, inc., 1977.
Jadhav, R., "Regionalism within Globalization: A Classification of Types and a Framework," in Arhitektura – professional and scholarly journal of the Croatian Architects Association, no. 1, pp. 46-51, 2003.
Lj. Blagojević, "Intervju sa arhitektom 1.deo," Časopis Asocijacije srpskih arhitekata ASA: Arhitektura, nauka, umetnost, no. 5, pp. 28-29, 2000.
C. Jencks, Radical post-modernism. London : Wiley, 2011.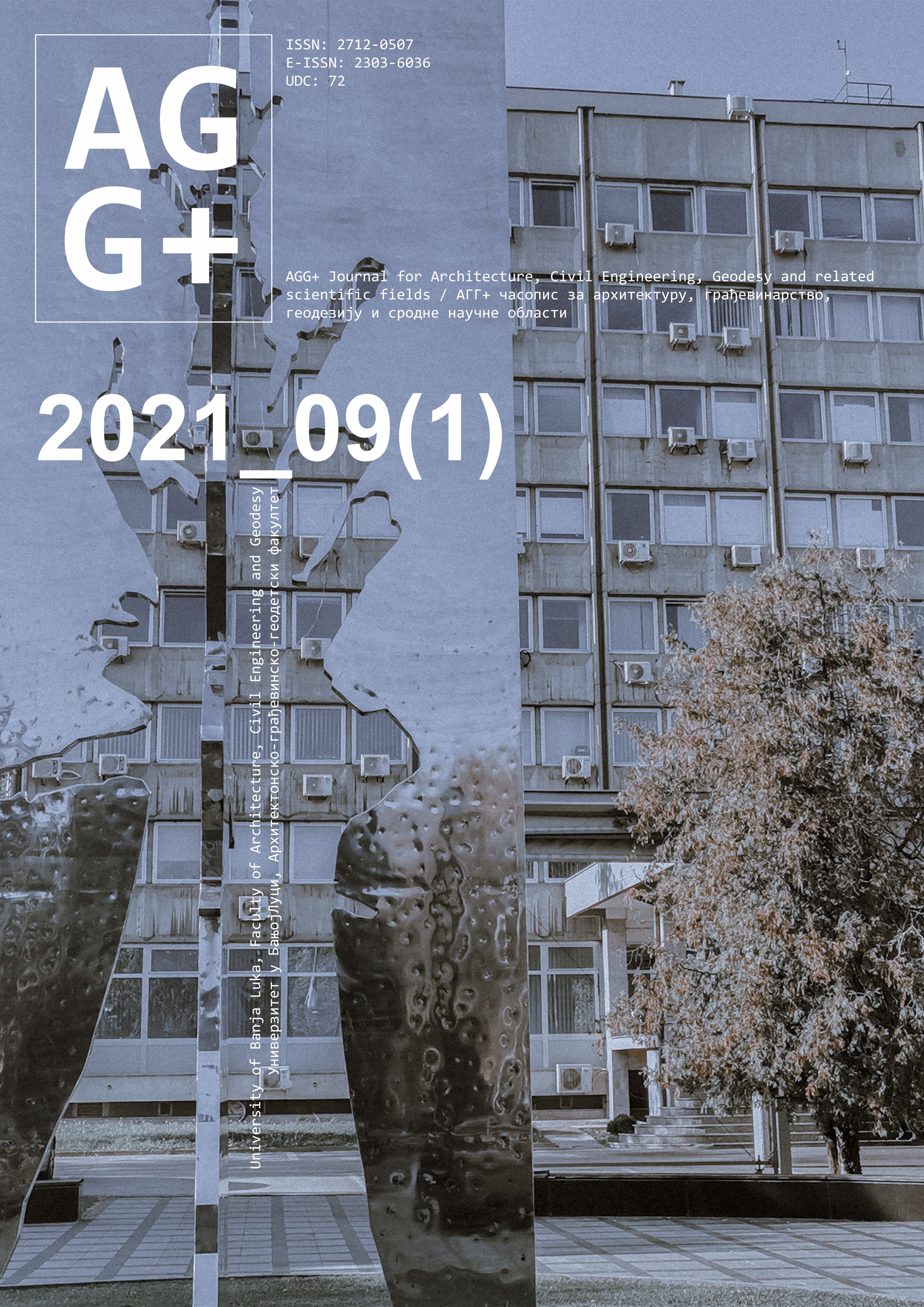 Downloads
How to Cite
[1]
M. Radulj, M. Milić Aleksić, and O. Šukalo, "Critical Resistance of a Hut – in Six Points (Cultivation of Critical Practice Through the Memorial House Design by the Architect Ranko Radović)", AGG+, vol. 9, no. 1, pp. 034-047, Dec. 2021.